Guess what, bloggers... I'm having a GIVEAWAY, and it starts today! It's the first one I've ever done, but I'm thinking it will be a recurring event because I really enjoy giving presents to people (just ask anyone who has ever witnessed my holiday gift-giving frenzy). I've been planning this particular giveaway for quite a while now, and I decided to launch it today. I thought it would be a nice way to start off the weekend!

Up for grabs:

A CUSTOM spiral heart pendant! I already have a few of these listed in my store, but this one will be made to the winner's liking. These pendants are made from polymer clay with a spiral imprint. I press TONS of brightly colored glitter into every little inch of the hearts and finish them with a shiny varnish to keep the glitter from rubbing off on you or your clothing. I already have some made in red, purple, aqua, and pink. But I am able to make them in any color of the rainbow. So the winner will choose which color they would like, and I will send it along in a jiffy! Here's a little peak of what you could win.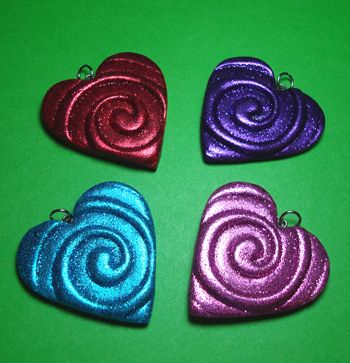 A closer look at the spiral detail.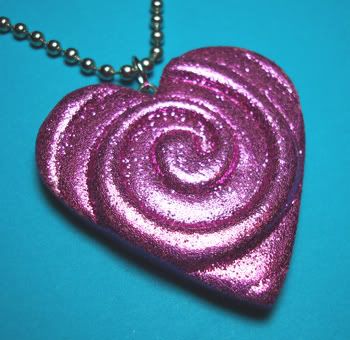 How to win:

1. Go to my etsy shop and have a look around.
2. Come back to my blog and leave a comment on this post.
3. Your comment should include some sort of feedback on my shop. It doesn't necessarily have to be nice either, I can deal with constructive criticism. Some ideas for what you may comment on could be your favorite item, what I could do to improve the look of my shop, new items you would like to see in the future, or anything else you would like to tell me about my shop.
4. If you would like to get in on future giveaways, follow me! I'm not giving extra votes for followers, but you'll be the first to know when my next giveaway rolls around.
5. The contest will be open for exactly one week. So at midnight on Saturday, April 18th, I will use a generator to randomly choose a winner and post here to let you know.
6. That's it! So get to clickin' and let me know what you think about my work. Good luck, everyone!