I'm the type of girl who can groove to a wide variety of musical genres. You might catch me bouncing around to a reggae soundtrack as the sun comes up in the morning, or winding down with the slow strumming of the blues late at night. But if you asked me to choose the type of music I love the most, I'd be forced to admit that my heart belongs to rock and roll. I've noticed a sort of sisterhood among women who love to rock. We hold hands and squeeze through the crowds to find a spot where we can see the band. We share stories about the crazy things we've encountered at concerts and parties. We lift our arms into the air and sway to the music like the passionate, loyal fans we are. To celebrate this musical bond, I've got a little giveaway for my rock and roll sisters. Up for grabs are two pairs of guitar pick earrings, pictured below.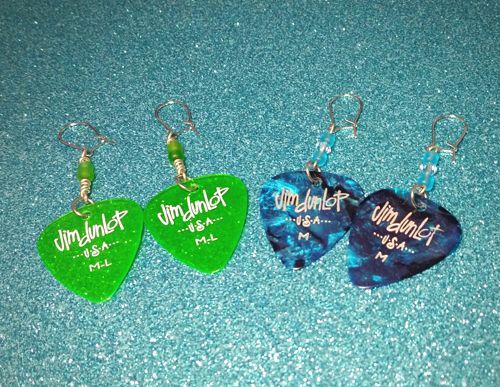 These earrings were handmade from real guitar picks, which were drilled and wire-wrapped with matching beads and attached to hypoallergenic earwires. One pair is transparent neon green with glass beads, the other is pearly blue with crystal and glass beads. I have several pairs of guitar pick earrings myself, and they are the perfect way to show your rocker spirit!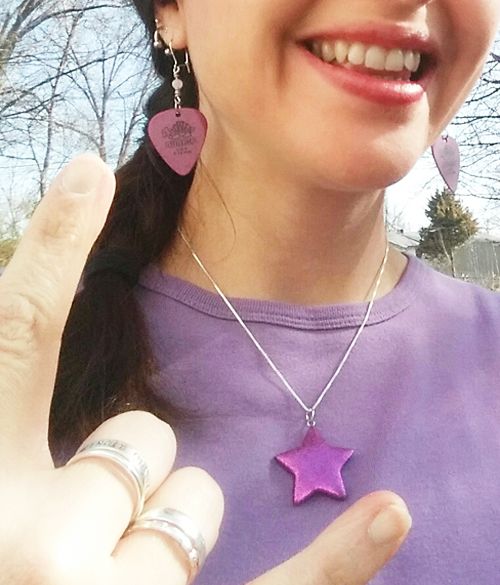 TO ENTER:
Leave a comment on this post telling me what your favorite rock song is. If you can't pick just one, you can name a few. I'll pick one winner who will receive both pairs of guitar pick earrings delivered to their door! This giveaway is open to my rock and roll sisters (and any brothers who might be interested) all over the world, and will close at midnight U.S. Central time on Sunday, April 12th.
Make sure to leave an email address with your comment so I can contact you if you win.
To get you in a rockin' mood, I've put together a playlist with nothing but the best rock music to keep your toes tapping.
ROCK ON, SISTERS!