I think I'm starting to accept the fact that there are highs and lows when operating an etsy shop or small business. So I am going to discuss a few of mine in this post. First, I want to show off some custom orders I've done.

I got a request to make 50 lollipop necklaces. They will be given as party favors to a group of girl scouts. They should fit right in with the decorations because the party has a candy theme. It's a sweetheart dance. ♥ ♥

Here are some photos of the process, as well as the finished necklaces.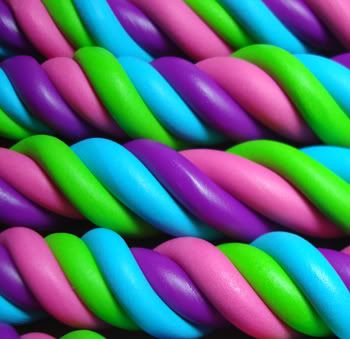 I got a request to make some tiny rainbow charms. The customer needed them to be small enough to be used on bracelets.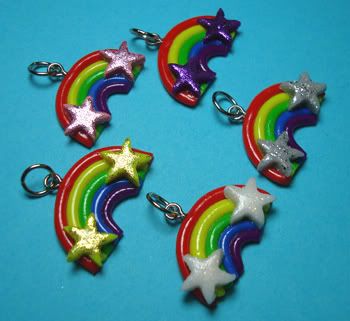 You can get a feel for how itty bitty they are in this photo. I'm holding one of them on my index finger.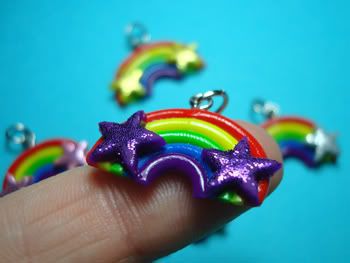 Custom orders are great, I absolutely love creating something that is exactly what a customer wants. I find it very flattering that someone would specifically come to me to bring their idea to life, so I always consider custom orders to be a success. But with success comes a few setbacks every once in a while...

Some of the items in my shop have recently expired. It's happened before, and I usually just renew the items and get over it. Sometimes they even sell the second time around. But this time, I took it a little harder than usual. Four months is an awfully long time, and I really thought these particular items would do well. They had lots of hearts, but I guess nobody ever decided that they just had to have them.

I got an idea, and I think I'm going to attempt to look at it as an opportunity to try something new. I'm ready for this stuff to move. I know there's someone out there willing to love these things, and I thought that person should receive a little discount for giving these items a good home. So I marked them down and created a sale section in my shop. Everyone loves a good sale, right? I always check out sale sections when I visit etsy shops, and some of the girls at Diyscene, a new forum I've been posting at, said that they love to hit the sale sections too. How about you? Are you more likely to buy an item if it's a total steal? Do you have a sale section in your shop and if so, has it been successful? Head over to my shop if you'd like to see what kind of bargains you can find!