My latest giveaway was so much fun, and I thank everyone who participated. For the first time since I've started giving things away on my blog, there were over 100 entries! Some of the last few came in after the giveaway was closed, so only 98 of them counted. But I was still excited to see such a turnout! I used a random number generator to determine the winning comment, which was....




The winning entry was comment #44. Jel, I will be contacting you to find out what color ring you'd like and where to send it! I love doing giveaways on my blog, so don't be sad if you didn't win this one. There will be many more to come!

Speaking of giveaways, I was also lucky enough to win one recently. There's a sweet blog I love to read called icandy, and I was thrilled when I found out I'd be receiving a bundle of goodies from the lovely Christina. Just look at all the cheer and color I had delivered to me!




My kitty immediately claimed the tissue paper as her own...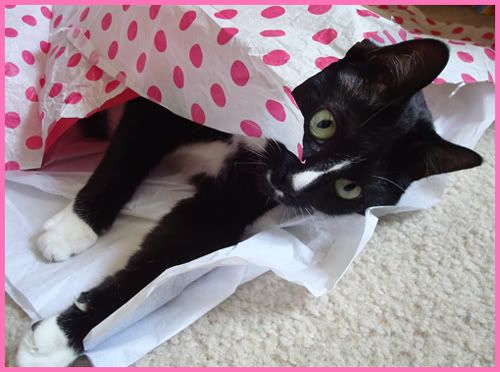 She burrowed into a nest of hot pink polka dots and decided to take a nap.




Isis and I thank you, Christina, for sending these little wanders our way. ;-)