It would not be fair to tell you that we had fun at Tulsa's Etsy Craft Party, even though it's the absolute truth, because I believe events like this are about so much more than the recreation they provide. It was beyond fun. It was the kind of fun that satisfies my soul. When I'm unleashing my creative side in the company of good people, "fun" is only a minor part of what is happening. Seeing the community come together to create is something that warms my heart through and through.

My wonderful friend Sherri was one of many Make:Tulsa members who helped make this party a success. Our group came together to donate supplies and handcrafted decorations, and Sherri captured plenty of photos before and during the event to document the good times had by the crafty folks in Tulsa, Oklahoma. If you're one of my faraway friends, I invite you to a virtual tour of our party. Right this way...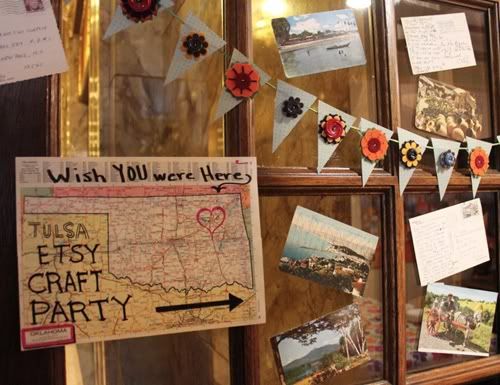 Here is a glimpse at the project tables all set up before the party started. My goal was to make these stations as thorough as possible with instructional sheets, examples, and all the necessary supplies. AND each table was staffed by a member of Make:Tulsa to give hands-on assistance with the projects.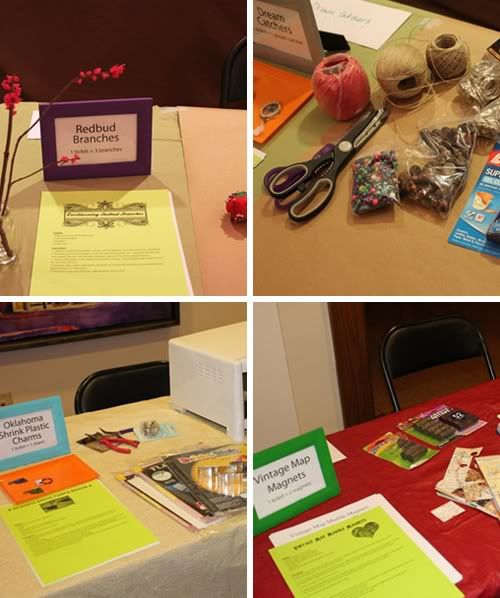 In addition to the projects, we set up a supply swap table where guests could exchange unwanted materials for something they could make use of.




Another thing that added some pizzazz to this party was the photobooth area with props, decorations, and a vintage door brimming with old-fashioned charm. A big thank-you to Katie for lugging it to the party for us to enjoy! Guests loved this feature of the party, and the photos are hilarious. Michael was our photographer and he did a great job. You can view the album of photobooth pictures here




Now that you've seen the way the party was staged, this is how it looked in action!




My other half even paid me a visit. He came to the party toward the end to hang out for a while and help me clean up. I hauled his unsuspecting self right toward the photobooth, grabbed some fancy accessories, and had our photo taken before packing up the remains of a very awesome night with the help of our friends.




This party was very exciting and memorable for me. A big thanks to Made: The Indie Emporium Shop for lending us the space. I'm already looking forward to our next crafty shindig!