Okay, blog. I know I've been treating you like the other woman. But baby, I'm back. And I want to stay the night and make things up to you. So let me give you a taste of what I've been busy with lately.

I am all about having little knick knacks sitting everywhere in my place. I've been maturing a bit with my decorating tastes (no posters in the new apartment, just framed art/photography) but that is one thing I have a tough time giving up. I know that decorations look so great when things are kept simple, and surfaces are clean and smooth other than a few choice items. But for me, I seem to only be happy once every flat surface in my home is completely covered in random figurines and things I collect. So what if it's a tacky little terra cotta rabbit painted with neon colors? I got it in Mexico, and although it looks as if it belongs in the bedroom of a 7 year old child, I will most likely display it well into my 40's.

So I decided that since I like having so much stuff on my shelves, I would begin making stuff for other people's shelves to sell in my etsy shop. This is the first such item to hit my store, but I plan on doing more of this type of thing in the future.




I have some pictures of this little shroom's tour of my apartment. The first stop was my mantle.



Then I decided it might look nice on my kitchen counter.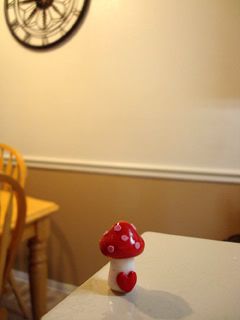 It also looked pretty rockin' on my boyfriend's guitar case.



It even maintains its cuteness while hanging around with adorable furry creatures! Those creatures, however, lost their chance at posing with this mushroom after only 3 or 4 shots. They were getting feisty, and I could see in their eyes that they wanted to eat the poor little guy. Even in this very photo, Isis (the chubby black one in the back) is plotting her next move.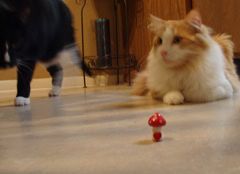 But guess what, Isis? I'm faster than you!!!! That's because I don't sit around all day, gorging on kitty food and cuddling with anyone who will put their arms around me. You, on the other hand....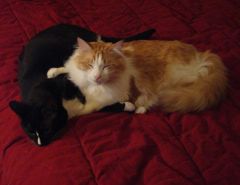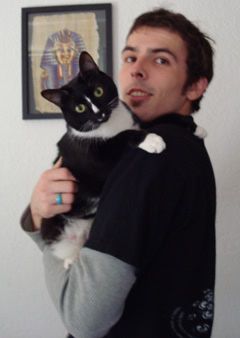 Hey now!! Paws off, beeyotch! That's MY man. You should be ashamed of yourself.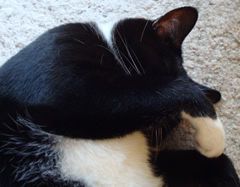 Oh, ok then. Glad we're on the same page.