I always feel like my blog posts should be themed and cohesive. I attempt to stay somewhat on topic, or at least make sure one topic flows smoothly to the next. Because that's the way blogging should be, right? Well tonight I'm going to break the blogging rules (gasp!) and show you some pictures that are not in any way related to each other, just because I have them and sometimes random is fun. So we'll start with the sky.

The weather has been rather craptastic lately in Oklahoma. I've been seeing nothing but rain and clouds for days on end now, and that really can be fun for a while. I enjoy rainy days, they are the greatest for getting into the pj's early in the evening and just taking it easy. But I have to be honest, I'm about ready for some sunshine!! Storms make for interesting photos though, this one was taken at a cow pasture in between Tulsa and my hometown. I was standing on the side of a dirt road taking this photo, when all of the sudden, it started POURING. I should have known by looking at these menacing clouds.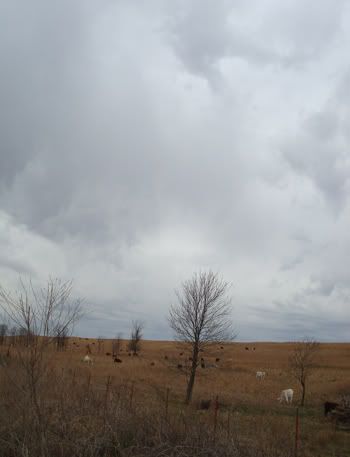 And now for the turkey. I see wild turkeys all the time on country roads, but the other day was the first time I had seen one wandering around in the middle of the city. I was taking a package to the post office, and I saw her in the grass behind the building. She was just picking away at the ground, paying no attention to the nearby traffic. There is a small cluster of trees surrounded by grocery stores, strip malls, and subdivisions. I imagine that's where she lives. I only hope that her cluster of trees doesn't shrink until she finds herself homeless. I've never thought of turkeys as attractive animals, but I must admit she looked rather graceful strutting her long, skinny neck.


You can see the back of the Wal-Mart supercenter in this one.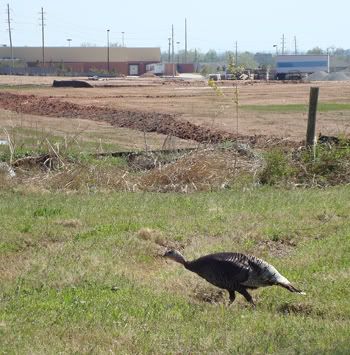 And now for the "something cute I found on etsy". It's a suction cup decoration for your shower made by UglyBaby. I pretty much fell over laughing when I saw this item, because we have an issue with this at my house. And I think it would be a wonderful way to warn my man of the consequences if he casually drops his wet towel on the floor ever again. Who can feel me on this one?