I think I'll start with today. I wanted to say HAPPY MOTHER'S DAY to all the wonderful mommies here! I hope your family shows you how awesome you are. You deserve a day of sitting around in your fuzzy slippers, sipping hot tea.

Now onto yesterday (we're going back in time, whooooooa). I had such a great time at the show! Brigid and I experienced some craziness on the way there; some guy bumped into her on the highway, and then the battery died leaving us stranded on the side of the road until AAA could get there and save us. But we are troopers, because our spirits were not lowered by the car troubles. We made it to the show and had a great time with the rest of the girls, as well as some of the other vendors. The talented Heather from Audrey Eclectic was set up right next to us, so we were able to hang out with her while gawking at her gorgeous work.

As I headed out to meet Brigid at her place, the sky was looking seriously awesome. I love the way the sunbeams were streaming down from the holes in the clouds. When I was a little girl, I always thought that there were souls coming down from heaven to check on us when the sky looked like that. And I still believe it just a little bit. Look, I think I see Dr. Adkins right behind the Fuddruckers. He's going to grab a bunless burger!



The clouds were so ripply and wavy that it almost looked like water. And yes, this picture was taken at 60 miles an hour. The things I do for this blog!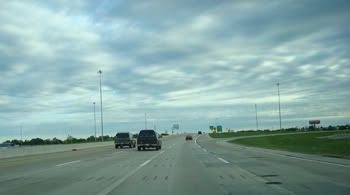 This is what our booth at the show looked like.



And here's a closer view of some of the things I brought.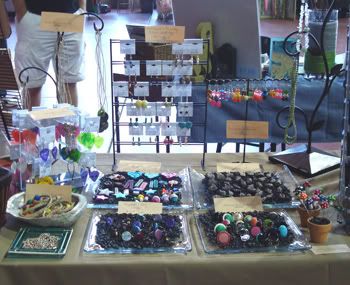 I was definitely wiped out after the drive and all the hard work of preparing for a craft show. Plus I've got ANOTHER 3-day show next weekend (The Blue Dome Arts Festival) and finals all this week. Whew!

Now let's go even further back in time and I'll tell you about my Friday night. I went to see the new Star Trek movie, and it was AWESOME! I'm not even a huge Trekkie. Originally, I was only going to keep my man company. But I absolutely loved it, I was completely enthralled for every minute. I highly recommend this film, even if you're not typically into this sort of thing. Plus the guy who played a young Spock is more than a little sexy. I think I have a slight crush. New Spock guy, you can give me the Vulcan nerve pinch anytime!



Who else has seen this movie or plans to?