I have heard mixed reviews about whether purchasing a spot on the etsy showcase is worth the money or not. So I thought that I should see for myself. It was totally on a whim, but I decided that $7 wasn't that much money and that it wouldn't hurt to try it just once. I've already got a few new shop and item hearts and I've only been up for about an hour, so that's a plus! Have any of you ever purchased a showcase slot before and if so, what was your experience? Here are some screenshots of the item I chose.

These bird's nest magnets were my first choice, but I'm going to switch it out to the mushroom garden stakes sometime tomorrow. I'll probably change it a few more times too, just to get more of my items seen.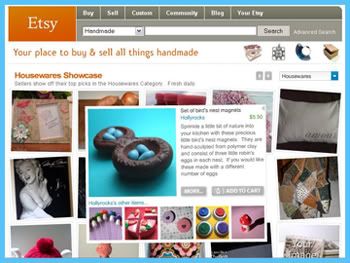 Sample items from the showcases are displayed at the top of the corresponding category pages. I chose to purchase a spot in the housewares showcase so that I could get some exposure for a few of my non-jewelry items. Here's a shot of the category page when my item was being displayed.




I'll summarize my showcase experience when my 15 minutes of purchased fame have come to an end!