Howdy, friends! Some of you may already know that I spent the weekend at the Blue Dome Arts Festival. In fact, some of you were there! But for those of you who weren't, I will give you a taste of what a fun time it was. Since I have about a billion pictures (okay, more like 12), I'll get right to it.

This is the view of the Tulsa Craft Mafia booth from 1st street in downtown Tulsa, where the festival took place.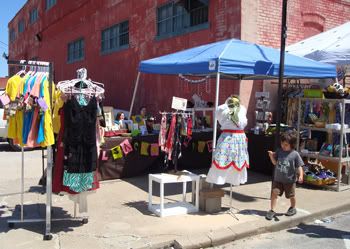 And here is the side view, as well as a glimpse at the beautiful Brigid of Grey Eye Designs. I bought some of her body scrubs and washcloths, which are perfect for unwinding with a long shower at the end of a crazy weekend. Trust me. :-)



This is what it looks like when customers shop in our booth!



Looking east on 1st street, you can see that there were plenty of wonderful vendors.



Some of the items I brought were vintage button rings, polymer pendants and rings, fossils, garden stakes....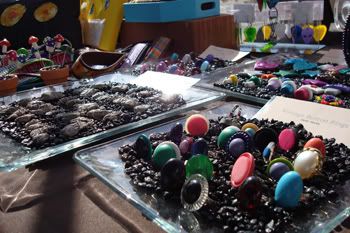 ...guitar pick earrings, of course (I ordered the paisley ones and the peace signs especially for this show)...



..and these funky vintage bead necklaces.



I also managed to get some pictures of customers who immediately put on their purchases. My friend Ernie of Inked Photography came by with his wife and one of his daughters (who were both very sweet, by the way). His daughter bought a lollipop necklace, and she was just too cute with her face paint for me NOT to take her picture.



This girl bought a polymer clay mushroom pendant and added it to the necklace she was already wearing. Doesn't she have the cutest style?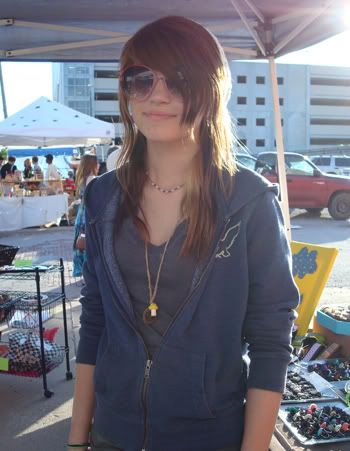 Yours truly, sporting some of my favorite guitar pick earrings.



I like them because they cast lime-green shadows. I look like a freaky bald-headed alien in this picture, but it's because my hair was pulled back in a bun.



And last but not least, I'd like to give public thanks to someone who helped us out. He is married to Christine, one of our members. This was a dog-friendly event. And I swear, not 20 minutes after I was talking about how glad I was that there were so many sweet pups to ooooh and aaah over, I started smelling something funky. I figured I had just caught a whiff of a nearby garbage can, and then I saw it. Someone's dog had pooped IN our booth space! It was literally deterring customers from entering, and it smelled terrible.

So Thom, being the only guy present at our booth, decided he would take one for the team and clean it up. He had very limited cleaning supplies handy, mind you. And I was considerate enough to photograph him while he was committing his good deed for the day (or the whole year, if good deeds are measured by how repulsive or dreadful they are). I should add, there were serious lolz occuring at the time the photo was taken.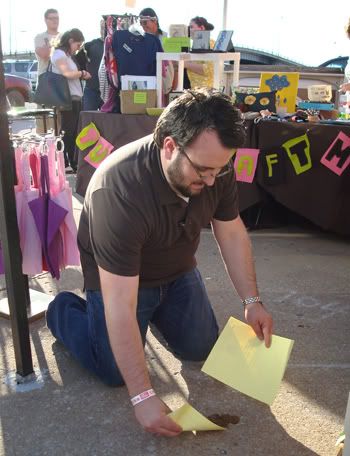 Thanks, Thom! And thanks to the lovely ladies + 1 baby I shared my booth with, you all contributed to what I thought was a really good time. ♥ ♥