I introduced my little "pet" squirrel in this post, but I'll refresh your memory in case you missed it. He comes around to eat the seeds that fall on the ground after the birds visit our feeder. Well we've had to move the feeder away from the edge of our balcony where it was because the birds were dropping the seeds into our plants. The squirrel would then come along and dig the seeds out of the dirt, which killed a few of our plants. We couldn't move the plants, because they need the sunlight. So we moved the feeder closer to the back of the balcony and closer to the sliding glass door. I figured that would be the perfect solution. I didn't want to run the little guy off, but I certainly don't approve of him digging up my plants (r.i.p., cilantro). And I get a better view of the birdies this way.

Since we have given the feeder a new location, Mr. Squirrel has come up with a new method of acquiring mouthfuls of seeds. He climbs up the screen of our door, and hangs upside-down like so: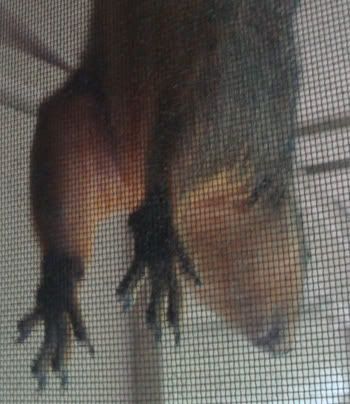 Then he STREEEEETCHES backwards to reach the feeder and stuff as many seeds as possible into his mouth and paws.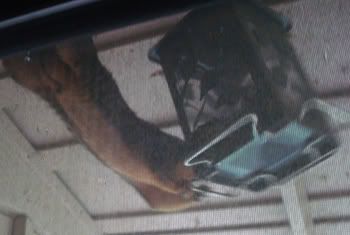 Once he has grabbed plenty of seeds, he hangs there upside-down and munches on them for a while before going back for more. The cats (and the humans, I'm not gonna lie) are fascinated by his tricky little ways.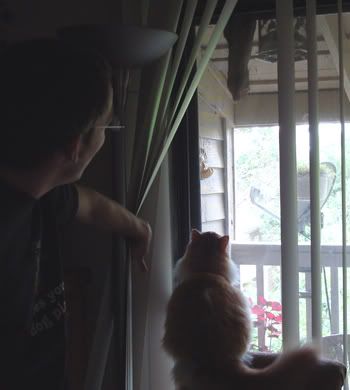 Sometimes Meezer decides he'd like to play with the our little outdoor friend. But Mr. Squirrel is brave, he cannot be startled when he is in the midst of a feeding frenzy.



On a side note, the fact that my cat has long hair makes his back legs look like he's wearing pants. He is showing off his little kitty britches in the above photo, can you see them? Do any of you have wild critters who visit your homes?

And speaking of wildlife, a bird pooped right on top of my head this morning. I was walking under the tree on the sidewalk near my apartment, coming home from the gym. And a bird, one who was eating the food I left for them no doubt, decided to relieve himself at the exact same moment I walked underneath. Luckily, I was headed to take a shower anyway. But it felt like an eternity before I could get up the stairs and under some water. I used two huge handfuls of shampoo. Rinse, repeat. Rinse, repeat. That's right, I washed my hair thrice. It was just not cool at all, I have never been shat on by a bird before. But I did laugh at myself, after getting all the bird crap out of my hair of course.