Hi guys! I'm here to tell you all about Indie Emporium and how amazingly fun it was. My sales were great, and I absolutely loved the atmosphere of gathering so many crafty folks along with supportive members of the community in one place. So let's start at the beginning, before the doors even opened.

Just look at how many people were in line! Now that this event is on its third year, more and more people are coming out to see what it's all about.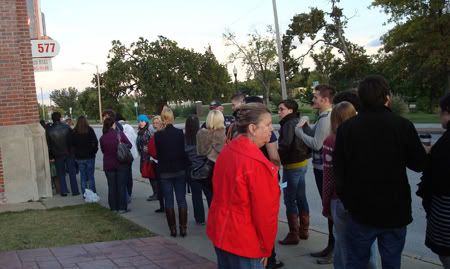 Here's a shot of the show in full-swing, and this is what I mean when I say that the atmosphere was so wonderful. If you look on the stage, you'll see that there are multiple things going on: a band playing nice acoustic tunes, and a screenprinting demo where attendees could decorate tote bags to take home with them.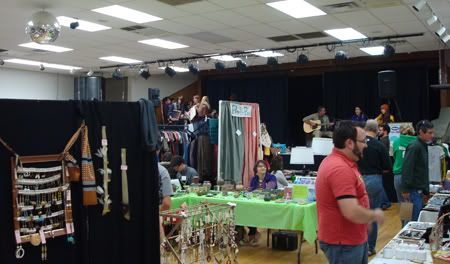 More vendors (including Briana and April from SheezKrafty on the right-hand side of the photo, who happen to be very cool chicks).




And now I'll come through on my promise to show you my new and improved setup. Behold!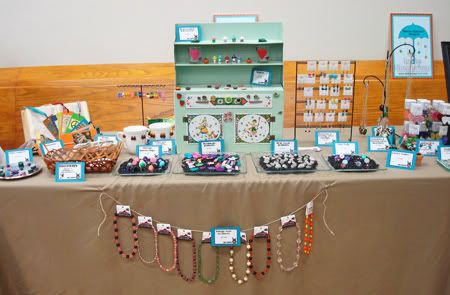 Here are the bookmarks I made from various papers and recycled materials such as vintage comic books and antique sheet music. I used an old, beat-up book to display them.




This is the basket I set aside for my fall/Halloween items.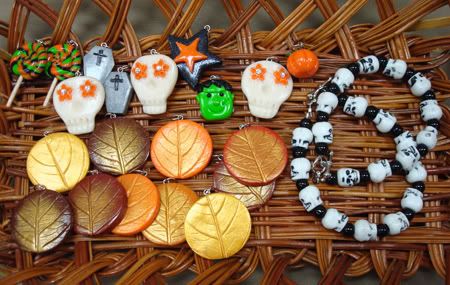 I brought plenty of pendants and fossils. They are displayed in clear glass plates filled with black aquarium gravel.




This shelf was definitely the star of the my space. It's an antique playroom shelf that I scored at an estate sale, and everyone who came by seemed to have plenty of nice things to say about it. Since it's made of metal, I was able to stick my magnets all over it.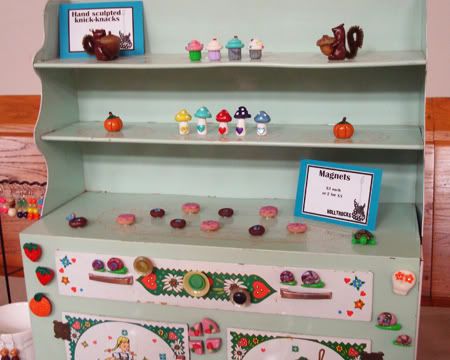 I used the top two shelves to display a line of knick-knacks I've been working on. I love having pretty little things on my shelves and surfaces at home, so I thought I'd include them in my setup too. I made two little squirrel figurines, and they were a hit! I hand-sculpted the squirrels and gave them real acorns to hold. They also have brown fuzzy tails.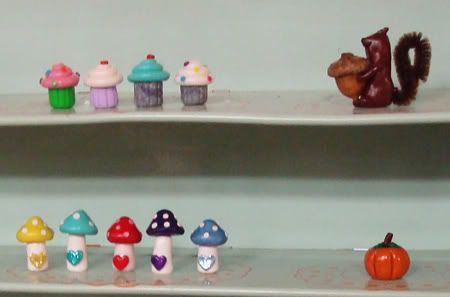 I sold both of them within the first 5 minutes of the show, so I didn't get a chance to take more photos of them. But I'm not complaining! You all know how much I love squirrels (and if you don't, click the "squirrel" link on the sidebar under my blog topics to find out just how deep my obsession goes). I wasn't sure if anybody else would share my love for these little guys though, so I was pleasantly surprised when they were so well-received.

My goal was to make my table look a little more full and visually appealing. How did I do?




I've still got a little more work to do on it, but I felt like it was an improvement. If you'd like something to compare it to, just take a look at my last post. And speaking of my last post, I really appreciate the lovely, encouraging comments you all left for me! They made me so happy. :-)

Now I'm going to catch up on all of your blogs. But come back soon, because I'll have even more photos of the show taken by my talented photographer friend. They'll be much better than my photos, so you will really get an idea of how much fun was had by everyone at Indie Emporium 2009!