Hello, friends! I've missed you all so much since my last post! I'm convinced that my instructors are all plotting a way to remove every interest and hobby from my life other than teaching. And for this week, they've succeeded. My craft desk is looking very lonely, and my etsy shop is in bad need of some TLC. I turn my assignments in on time and I always do my very best work, so it's not like I'm slacking or falling behind. It's just that I've been swamped with all this work and am finding very little time for anything else. I did, however, enjoy a nice cozy weekend and I wanted to share some photos with you before I go catch up on all of your blogs.

I got home from school on Friday after spending all day in the third grade classroom where I'm doing my internship. I've been receiving all kinds of little gifts and pictures from my students, and every single one is a treasure to me. Here you will see an adorable Halloween card that was made for me by what I'm pretty sure is one of the sweetest little girls I've ever met.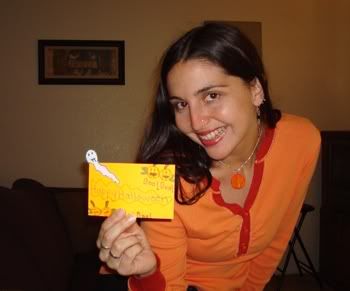 Perhaps you noticed that spending my days in an elementary classroom gives me messy hair, sleepy eyes, and terrible posture. But that's okay, because it also provides me with a genuine smile on my face as well as a sense of having found my mission in life. And I wouldn't trade that for all the hairbrushes or straight spines in the world.

We really didn't leave the house very much, other than to stock up on enough junk food to last the weekend and get some gas. While I was at the gas station, I noticed that there were about a billion blackbirds gathered on the power lines above the intersection.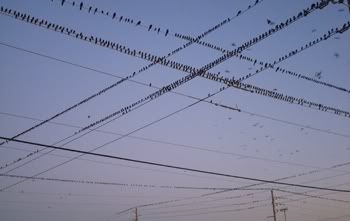 It was interesting to see so many of them hanging out by the light of the moon, talking about whatever it is that birds talk about.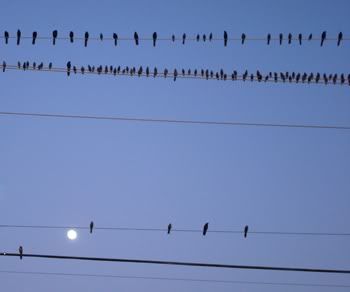 Then we went home and lit a fire. It wasn't really even that cold (I think it was 52 degrees), but it was more about atmosphere.




As the fire crackled, we curled up on the couch to watch one of our favorite scary movies- Alien.




In case you ever questioned the extent of my nerdiness, now you know. I am a full-on, science-fiction-watching nerd. And Lieutenant Ellen Ripley (aka Sigourney Weaver) is my hero.




Because anyone who can wield a machine gun and protect a little girl at the same time is pretty hardcore in my book. I ate junk food and candy as I watched one of my favorite heroines kick some serious extraterrestrial ass, then I passed out in a sugar-induced stupor.

When I woke up on Saturday morning, this little guy was enjoying a nice breakfast on my balcony, courtesy of the DIY squirrel feeder I made.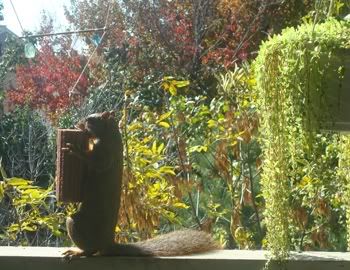 And tonight, I've got plans to spend some quality time with my craft supplies. That's right, Hello Kitty lunchbox containing my stash of polymer clay, you and I have a date. Taking the time to forget about school and assignments in an effort to tap into my creative side is not only fun, it's also necessary. I just don't feel like myself unless I get at least a small break every once in a while for some "me time".

What do you prefer to do with your free time?