I bet you want to know who will be taking home the baby terrarium, right? Well, I'll tell you! I used a random number generator to draw the winner, and this is what I got: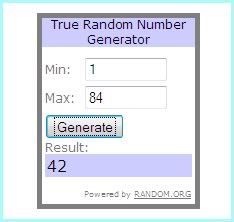 The winning comment was number 42 left by Olive Street Studio! For those of you who did not win this giveaway, I've got these little terrarium pendants available for purchase in my shop if you feel like your life will be incomplete until you've got one of your very own.

I want to thank everybody for playing along. Not only did this giveaway receive more entries than any I've done in the past, but I also gained lots of wonderful feedback. To show that I take your suggestions to heart, I've got a fun tutorial in the works right now. I'm also gathering up some of my most recent vintage finds to show you, deciding what recipe to share next (my super-tasty homemade guacamole is the front runner at the moment), and even planning my next giveaway. So keep a close eye on my blog for lots of fun things to come!