Good day, friends! I am planning to incorporate my vintage finds into my blog on a regular basis, so it's time for round two! This time, I'm going to show you how I was inspired by some of the items I found. When I'm working an estate sale, certain things will just speak to me and I know that I have to buy them. An idea will spark in my mind, float around amongst my thoughts all day, and I'm bursting with anticipation by the time I get home.

For example, this vintage mug rack immediately caught my eye, and I started to formulate a plan for how it could be used. I thought it would be a nice way to display bracelets, but they would have to be as funky and unique as the rack itself. So I made a bunch of stretch bracelets out of vintage beads and hung them from the arms of this rack. Who would've thought simple piece of kitchenware would inspire a whole new design for my craft show setup?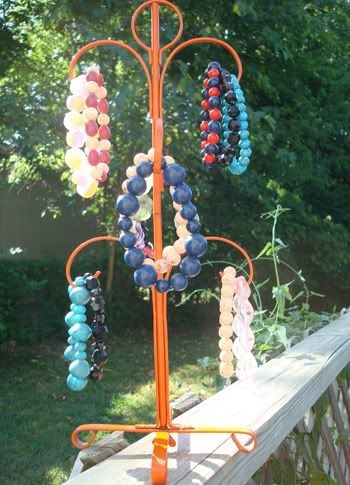 Have I ever mentioned how much I love vintage beads? Just in case, let me go ahead and say that I love them a lot.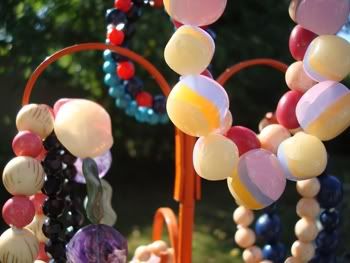 Next up is a set of mushroom ornaments. The metal wires they were hanging from were corroded from being hung above the oven for many years, so I removed them. I could have replaced them with new wires, but I decided that I wanted to repurpose these little shrooms into something different.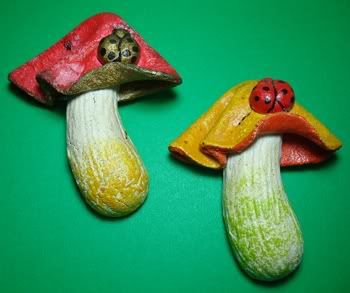 So I attached magnets to the backs and stuck them to my refrigerator. They added a nice retro touch to my kitchen. Even the husband likes them, which is good because he doesn't always share my love for kitschy things.




And lastly, I bought something that I believe was handmade. It's a vintage frame with a piece of cushioned, gold velvet in the center for displaying pins and brooches. I loved the way it looked with pins attached to the velvet, so I decided to make my own pins as a throwback to the adorable daisy brooches that were so popular in the 60's and 70's. I even used some of the funky colors that were typical of that period- brown, yellow, orange, and green.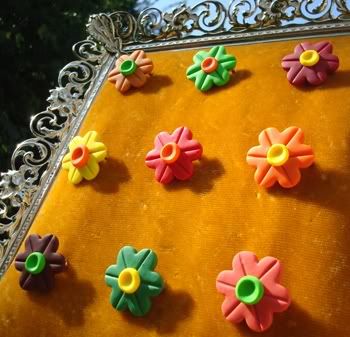 I am having so much fun with all the unusual things I keep stumbling upon. Now I just hope that when I take some of them with me to craft shows, there will be other people who can appreciate my love for all things retro.

Have you ever found inspiration in an unexpected way?