In my last post, I gave you a tour of my backyard and showed you how much I'm inspired by nature. The little creatures bring me endless happiness, and one animal that has been bringing me joy for years now is the squirrel. The real squirrels that come to my house have sparked an addiction in me- I've started to collect squirrel figurines and artwork to bring a little bit of their quirky ways into my home. When Jessy, my blog buddy from Apparently Jessy, contacted me about participating in a swap with her, I happily agreed but I had no idea what she had in store for me. Today, I will show you what a great job she did of pegging my personality, style, and interests.

Jessy told me that she had a tote bag idea in mind, and I was very excited about that because I had seen her work before on her blog and her Flickr page. Her unique style of tote bags have always appealed to me with their elaborate stitching and customized scenes. When I received my package on Christmas Eve, I was thrilled to discover that the scene she had sewn onto the middle of my bag was a sweet little squirrel!





Clockwise from top: Handmade squirrel tote bag, vintage mushroom salt and pepper shakers, handmade ornaments, star hair ties, cupcake magnet, and a pouch to match the tote bag.



The amount of detail was so impressive. He has a precious face, and he is surrounded by a sprinkling of acorns, flowers and leaves.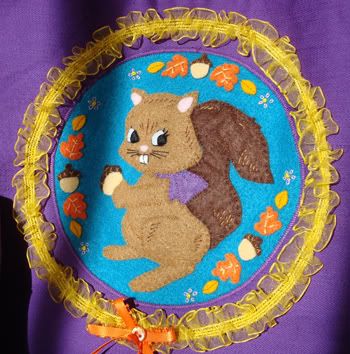 She made me a matching zipper pouch to go inside, and I was so excited when I saw that it was personalized with the name of my business and my blog. I now have my very own Hollyrocks pouch!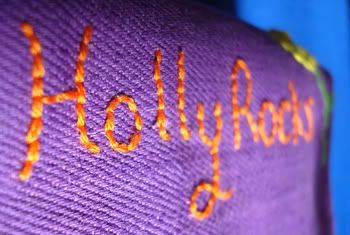 And then there was this lovely cupcake magnet, which does a great job of adding a bit of sweetness to my kitchen. It also makes me think of all the yummy cupcakes Jessy posts on her blog.




She also sent these adorable mushroom salt and pepper shakers. I collect mushrooms, so this set definitely found a loving home.




Still remaining within the color scheme, Jessy made a set of felt ornaments. I just love this design!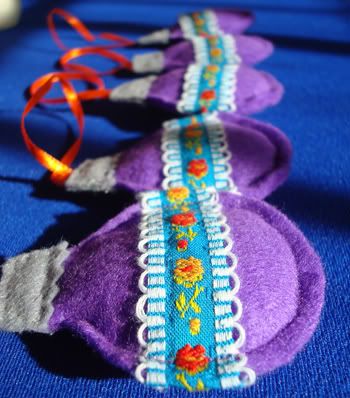 I could not wait to load up my new bag with my things and carry it around town.




Now that I have personally tested Jessy's bags, I can vouch for their quality and comfort. I am VERY picky when it comes to purses. I have pretty strong opinions on an ideal size, the type of closure, inner pockets, the length of the straps, etc. Not only is this bag a complete work of art, it is also very functional and it appeased my picky ways.

To summarize my very first swap with a fellow crafter, this was a really fun, memorable experience. I was enchanted by the idea of these items traveling from the other side of the globe to my little home here in Oklahoma. The day I received the package was all smiles and giggles, and I would eagerly accept if another similar opportunity floated my way. Thank you so much, Jessy, for sending me a package full of happiness!