If you like to stay up to date with current events and weather trends, you may have heard about the massive snowstorm that hit the Midwestern United States. Here in Oklahoma, everything has pretty much shut down due to the record-breaking amount of snow we received. Other states may be accustomed to this kind of thing but this is a rare occurrence around here, and our cities do not possess the proper equipment to get the roads cleared. So while most businesses and government offices are closed, people have been trapped inside their homes for 3 days straight now because the temperatures have not been high enough to melt the massive piles of snow surrounding their houses and vehicles. Since I just witnessed a brave neighbor getting no further than the end of his driveway before getting stuck in a mountain of ice, I think it's safe to say I won't be going anywhere until it clears up a little. And I'm quite alright with that. I'm all holed-up with my love, my kitties, plenty of food, and enough craft projects and blog ideas to keep me occupied for a year or more. It's turned out to be a pleasant, impromptu staycation.



A waist-high snowdrift on my deck.

Since I've got plenty of downtime, I thought I'd take a moment to show you some of the vintage valentines I mentioned in my last post. Even when I was single, Valentine's Day has always been one of my favorite holidays. I would daydream about possibilities, about what kind of Prince Charming the future might bring to me. I passed out valentines to friends and classmates well into high school (and I'm talking Care Bears and Hello Kitty, the kind you would expect to receive from a preschooler).

Over the years, my fascination with this holiday has matured a bit, but it's still going full force. When I was about 19, I started collecting vintage valentines. It's just one of many collections, but it's very dear to me. Even though unused valentines hold more monetary value, I place a higher sentimental value on the ones that have been marked on. Seeing a child's handwriting, faded with time on the back of a worn piece of cardstock, my imagination runs wild. I get swept away in a sea of childhood memories, classroom crushes, and curiosities about what happened to these people and the experiences they went on to have as adults.

Here is just a small selection from my stash of vintage valentines. They were sent and received many years ago, stored in a safe place, and eventually passed around until they reached the hands of a certain starry-eyed pack rat.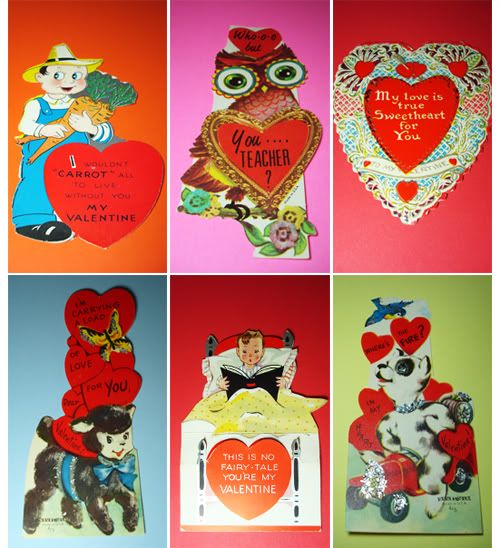 I could show you valentines all day, but variety is nice too. So here are a few more sweet, vintage goodies to warm your heart.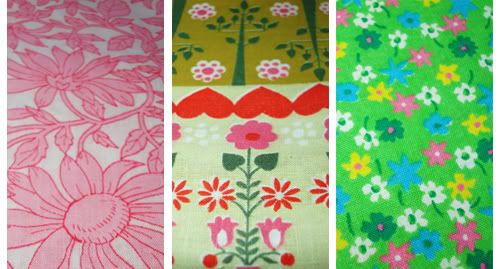 Vintage fabrics in dreamy patterns.

I purchased this necklace at an estate sale for $2 quite some time ago. I figured for that price, I could at least use the beads to make something new. But the more I looked at it, the more I realized that this piece of jewelry is far too beautiful to be destroyed.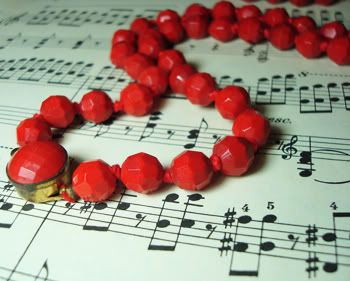 It's made from faceted German glass beads in a gorgeous shade of red.




These illustrations are part of a sweet little book about friendship, published in 1972.




Vintage storybooks are yet another collection of mine. Now you see why I started a "Vintage Finds" series on my blog. I have endless items to show you, and it's nice to have an audience who can appreciate such things. Out of all the things I come across working estate sales, the things that were a part of someone's childhood are the most special to me- even thought they are not a part of my own family's history. What kind of things do you become attached to?