Love handles, muffin tops, no matter what you want to call them, it can be quite the tricky little area. They even make an appearance on skinny girls from time to time because, unless you specifically target this area, it can easily get squishy. But the upside is that if you DO target the muscles in your waist, it has a cinching effect over time. The results are noticeable and beautiful. The muscles I'm referring to are called your obliques, and I've chosen the following diagram to demonstrate their location just because it's hilarious.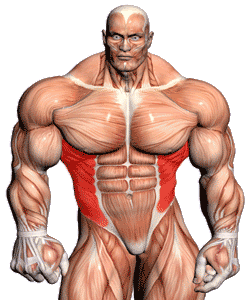 I love this exercise because not only does it work a difficult area, but it also requires very little equipment. All you need is a body ball, so if you've got one (or if you're willing to shell out as little as 10 bucks to get one) let's get started!



Like I mentioned on the video, it's a good thing to be a little sore. That means it's working! But you will want to find that perfect balance between working these muscles hard enough and working them too hard, so go easy at first to test the waters. If you incorporate this kind of exercise into your routine on a regular basis, it can really transform your body. I'm a huge believer in a combination of cardio and weight training, so pair this workout with a brisk walk or run and show those love handles who's boss.

Have a happy, healthy weekend!