Howdy, sunshine! I've had flowers on the brain and stars in my eyes recently according to my latest creations. I'm particularly excited about these new developments because I think they have the potential to spark imaginations. The first item I want to show you has been in the works for many months. I've been experimenting with recipes, testing the results, and designing packaging for these little garden gems. Ladies and gentlemen(?), I present to you: Magic Garden Kits!




Each kit contains a hand-sculpted garden stake and a plantable heart made from recycled paper and wildflower seeds. These kits are designed to attract butterflies, faeries, and other magical creatures to your home! The wildflower hearts are very easy to grow; just plant under a thin layer of loose soil, water daily until seedlings appear, and water as needed once plants are established. A fun alternative is to place the heart in a saucer near a window and keep it constantly moist until the tiny plants start to sprout. The paper will serve as a substrate to get the seedlings started, and you can observe their germination and growth before planting them- a fun project for kids and gardeners of all ages!




You can find these in my shop and at Made: The Indie Emporium Shop.




I recently released a new line of prints featuring the wisdom of historical figures paired with the fascinating beauty of Hubble telescope images. If you're a dreamer like me, you've got to check them out!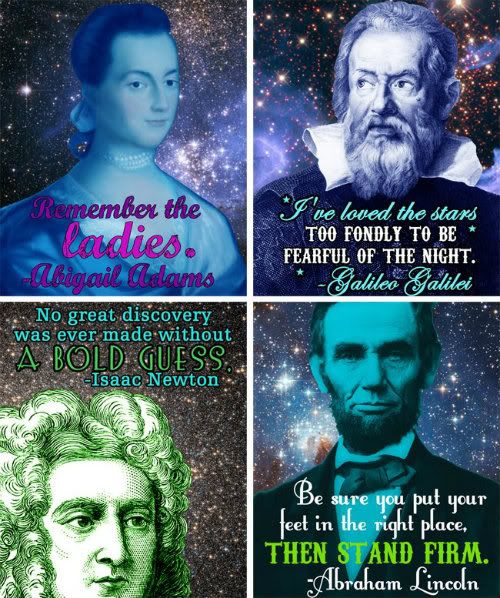 Of course I had to keep a set to adorn my little nook in the corner of the room we use as an office. I find a bit more enjoyment when I cozy up and read in this spot knowing I've got some of history's most brilliant stars looking over my shoulder. These four are the only ones that are available online at this time, but I'll be listing more soon.




I'm always on the lookout for amazing people who affected the world in a positive way. Who is your favorite historical figure?