If you want to be in the know, "TCM" stands for Tulsa Craft Mafia. And we're some awfully crafty little thangs, if I do say so myself. Now that we've established that, let me go on to say that I really am honored to be associated with these girls -I say girls because all our members are female, but we don't discriminate either (bring it, boys). And because I am so proud (and fond) of each of these ladies, I'm going to show the blogging world what my favorite item is from each of their etsy shops! I'm going to start with the new girls, because I'm so glad to have met them (this is turning into quite the love fest, amiright?)

Emily of Red Kerchief sews some of the most adorable aprons (and shirts and other stuff)! This apron may be found in her etsy shop, which happens to be brand new. So go check her out and give her some hearts!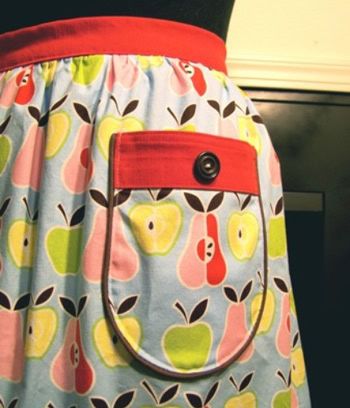 Andrea is part of a team which makes up Paper Lotus, a virtual candy shop for those of us who enjoy pretty colors and cute illustrations. I'm glad I made this blog post, because I didn't even know she had this item in her shop and now I love her even more. It's a hula dancing whale, and I think I will he will have to be mine sooner or later!!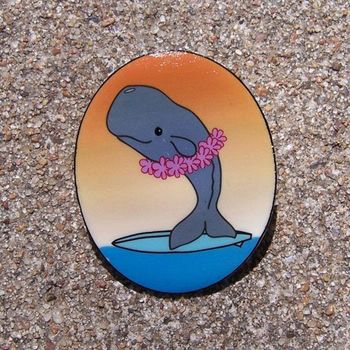 Up next is our fearless leader, aka Tara of My Little Gnomies. She makes wonderful things out of her original drawings. She also makes pretty cute babies, see?



Christine from Weather and Noise is one of the craftiest people I've ever met. I seriously don't think there is anything artistic that she CAN'T do, it's freaky. This shirt actually describes its maker quite well, even if it wasn't intentional. She has it in other colors too!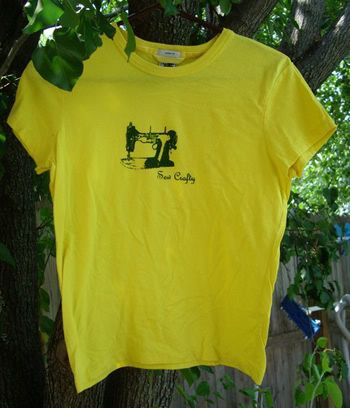 I'm also a big fan of GreenerMe, a shop run by my friend Renee. She really knows her stuff, I have a set of thank you cards that I purchased from her quite a while ago. And when someone actually does something special enough to receive one of them, I always hear compliments about what great work she does. If you are planning on getting married anytime soon, or know someone who is, this is the woman you need to talk to about invitations.



As a jewelry maker, I know quality when I see it. In fact, I am highly critical of jewelry. I often find myself scoffing at store-bought jewelry, thinking to myself "what a poorly made piece of crap!" So you have to believe me when I say that Brigid, who runs Grey Eye Designs, is a master of jewelry-making. She has a unique style that somehow manages to be all her own, but would also look good on just about anyone who decided to sport some of her work. She's also a writer, so her item descriptions are always fun to read. I've been madly in love with the "Harlequin Romance Necklace" since I first saw it.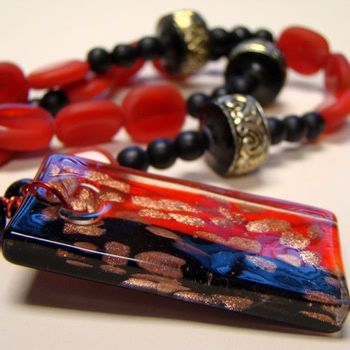 Amby from The Knit Owl makes some amazing things, and offers quite the variety of items in her shop. She does rings, bags, pillows, scarves, coasters, etc. So chances are she has SOMETHING you like, because she can do it all. Her tote bags tempt me every single time I do a craft show with her, she has a way of picking the funkiest, most awesome vintage fabrics available to use in her creations. Just take a look at this tulip pillow and you'll see what I mean.



And last but definitely not least is my girl Estela, you may know her from Stelabird. I think her work reflects her fluttering, free spirit. She is such a sweet and sunny person, and you can see that when you look through the pages of fun owl plushies, pouches, and keychains in her shop. I gave some of her pouches to the girls in my family for Christmas last year, and let me just say that they went over quite well. Everyone wanted to know more about Stelabird. And while she won't be with us much longer due to the fact that she will be moving, she will always be one of us (aaaw!). This is just one of her many adorable creations, his name is Burl the Squirrel.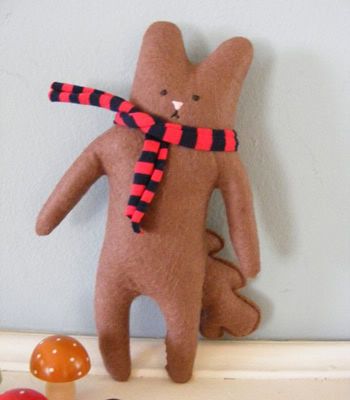 And that's it for now, bloggers! Now you have a taste (albeit just a small taste) of what the Tulsa Craft Mafia is capable of. To find out more about us as a group or about the individual members (including links to everyone's blogs), head over to TulsaCraftMafia.com and have a look around.