How does a prehistoric animal make its way from the bottom of the ocean floor to my craft desk? Well tonight, my friends, I will show you. It all starts in my hometown, at my dad's place. He has a mini storage business, and in between the buildings are roads made of gravel. The gravel comes from a local quarry, where remnants of Oklahoma's underwater past lie hidden in the rock. So my quest to make these ancient critters into wearable art begins here, in the gravel.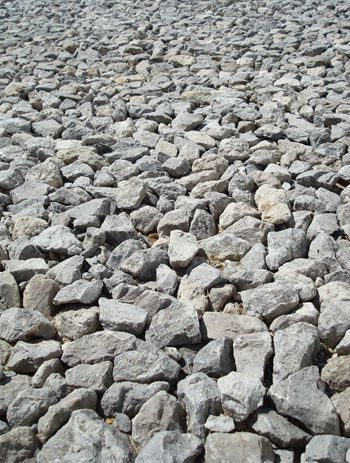 It looks daunting, I know. But once you sit your happy little self down on the ground and really start searching, they are easier to find than you may think.


That's because gravel is one of the best sources for finding fossils. Just take a closer look, I can see one right now!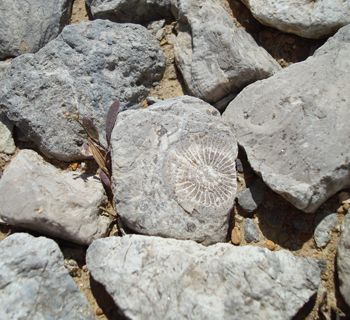 Once I've collected a satisfying amount of fossils, I steal an envelope from dad's desk and stuff it full of my prehistoric loot.


When I get home, I sort through the rocks to find the ones I want to use. This is where about 90% of them get weeded out, because there are a lot of factors determining whether they will be suitable for my purposes. They have to be the perfect size. Too big, and it will be uncomfortable to wear, too small and it's virtually impossible to wire wrap. I also prefer fossils that are very visible and easy to identify. From this haul, I was only able to find a handful that I could make into pendants.


I put them in a bowl and pour boiling water over them.


Once they soak for about half an hour and the water cools, I pull them out one by one and scrub them down. This removes all loose dirt, so that I am left with nice clean fossils drying on a paper towel while the nastiness is left behind in the hot water.


I let them dry completely, and then bust out my jewelry supplies. I use flexible silver craft wire to wrap each fossil into its own little cage. The end product is an amazing little fossilized animal that you can wear!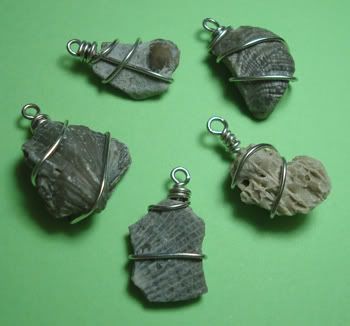 The finished fossil pendants can be made into necklaces, keychains, or good-luck charms for those who feel empowered by carrying around little relics from ancient history. They make great gifts for aspiring scientists and historians of all ages, so look closely at the rocks around you and craft up a keepsake from any nifty ones you find. Happy crafting!