I've got an update for you concerning the suncatcher/squirrel feeder I mentioned in this post. My little friend has still been visiting the balcony on a daily basis to get his fill of sunflower seeds and corn. I really look forward to seeing him every day. It may seem as though I am too easily entertained, and that's probably not far from the truth. But all the same, it makes me very happy that this little guy has found a safe place to hang out on my balcony.

This is what he looks like when he's busy gnawing on the corn log I attached to the suncatcher. He finally finished the first log, which I put out over a month ago.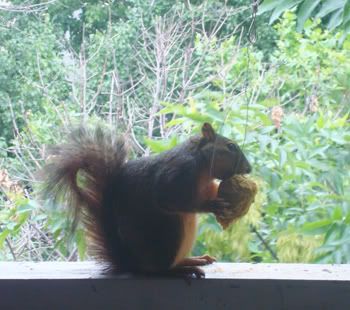 Just look at his little FACE!!! I know that squirrels are very common animals, but I just can't help but get all giddy when I see this curious little face peeping in through the glass.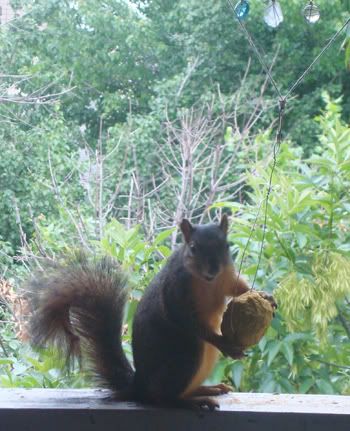 And if the photos above were too much cuteness for you, then I don't recommend scrolling down to see the next one because it is likely to push you over the edge. I've seen the squirrel getting nice and cozy on my balcony before, but just the other day I was lucky enough to capture a photo of him taking a little afternoon nap in the shade of my potted plants.




He peeped his eyes open just a bit to see what I was up to, and then slowly slipped back into a cozy sleep. I was amazed by it because I've never seen a squirrel sleeping before this one started coming around. Usually when I see them, they are scattering and darting about. So I felt very lucky to have caught a glimpse of this one laying with his face resting on his paws like a kitty. Isn't that the sweetest thing?

If you're in the market for watching adorable critters falling asleep, you should check out this blog I came across (I think one of the blogs I follow had a link to it, but I can't remember which one). It's called Cute Things Falling Asleep, and I am completely addicted. It features all kinds of cuties, like babies, sheep, penguins, and of course plenty of puppies and kittens. Most of the videos are under a minute, and I'm all about something that can completely make my day in 20 seconds. I'll share one of my favorites with you.



I told you I was easily amused!