I'm back with the giveaway I promised! Here's a little bit of my reasoning behind why I chose to give this particular item. About a month ago, I set up a poll on my blog asking which of my items you would be most likely to purchase if you saw me at a craft show (which helped me greatly by the way, thank you so much to everyone who voted). Many of you voted for the mushroom garden stakes, which also happen to be the most hearted item in my etsy shop.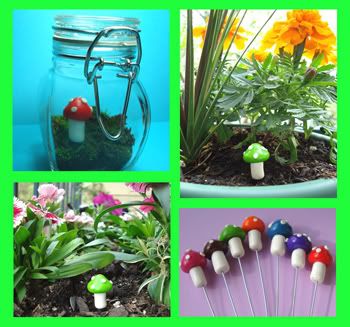 Click here to see the listing for these in my shop.

Since you all have shown these little guys so much love, I decided that somebody should take a few of them home for free! Two of them to be precise. But I wanted to have a little bit of fun with the gardening theme and add a few extra goodies into the mix...




The winner will receive the following:
♥ 2 mushroom garden stakes, hand-sculpted by me. (1 red and 1 green)
♥ 1 pair of strawberry patterned gardening gloves
♥ 1 pack of daisy seeds

The mushrooms are outdoor safe, so feel free to use them in a potted plant or directly in the ground. I hope this little gift set will bring a little bit of sunshine to the person who wins. :-)




How to enter:
I didn't offer extra entries for my first giveaway. But this time, I am! Here are the different ways to gain entries. Please leave a separate comment for each one.

♥ Leave a comment telling me what your favorite plant/flower is and why.
♥ Follow my blog. If you are already following, that counts too!
♥ Tweet about this giveaway. Comment with a link to your twitter profile.
♥ Blog about this giveaway. Leave a link to the post in a comment.

This contest is open to all countries, everyone is welcome to participate! The contest starts now and will end at midnight (U.S. central time) on Thursday, June 25th. I will draw a winner with a random number generator and post the winner on the 26th. Good luck, everybody!