For those of you who don't know this, I've been with my man for nearly 7 years. Our families have been attempting to nudge us toward the altar since about year 2, but we weren't in any huge rush. We've recently decided, however, that we are both very much ready to take the plunge. There are a few things we're struggling with though, and I wanted to see what your opinions are on the matter.

We both have very involved families. And since they have been so anxious to see us tie the knot, we naturally imagined a traditional wedding at first. The more we discuss it though, the more we feel like running off for a romantic getaway and eloping is more our style. The boy is a very private person, so he is all about the idea of sharing our vows on a secluded, scenic location. I do worry that I'll regret not having a "real wedding" later on down the road, but I think the experience of sharing a moment with nobody other than the man I love and a preacher on a beach or mountaintop would easily wash away any potential regrets about not doing things the normal way. I've never been a huge fan of following the norms anyway, so why start now?

When I take my family into consideration, I come to the conclusion that they deserve to see their sweet little girl walking down the aisle. But when I take only myself and my man into consideration, I feel like eloping would be perfectly fitting for our personalities. I don't want to strive only to please the family, because it's not about them really. But I also don't want to be a selfish, inconsiderate jerk and I'm just having a hard time finding that middle ground. Suggestions?

Since we've been leaning so heavily toward the "let's run away and get hitched somewhere exotic" option, I've been keeping my eyes peeled for fun little dresses. I was looking for something feminine and preferably white that could pass as a wedding gown, but comfortable and breezy too. Something that would fit right in at a low-key wedding on the beach. Yesterday at an estate sale, I found this vintage gem for only $6. How's THAT for a thrifty bride-to-be?




It makes me so happy when I wear it. I just want to dance barefoot in the grass. Or in the sand....




It's exactly what I was looking for, so much so that I almost want to believe that it had been hanging sadly in a forgotten closet, looking for me too.

In other news, I am currently featured in an adorable treasury that was put together by Amy Perrotti. She's a total sweetheart with a lovely little blog.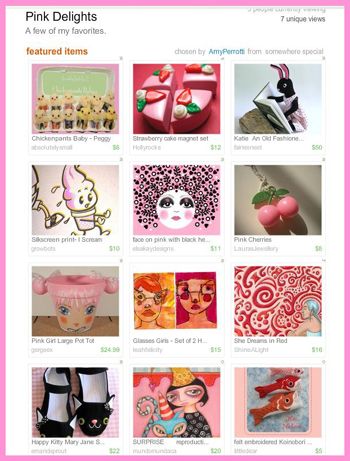 Click here to see the treasury. There are some really cute things there (I got some new favorites), which makes me even more honored to be a part of it.

I hope you all have a beautiful weekend! And don't forget to tell me your opinions and thoughts on the whole wedding situation. I wouldn't mind hearing some of your wedding experiences either, so feel free to reminisce with me!