As most of you have noticed, this summer has been a hot one. I showed you the hanging feeder that I made for my neighborhood squirrels in this post, but what you didn't know is that that's not the only rodent commodity to be found on my balcony.

Ever since I noticed the squirrel scaling my screen door to get to the bird feeder (and yes, there's a post about that too right here), I decided that I would make his life a little easier by leaving him a little bowl of seeds. And it was just so hot outside that I figured since I already had a food bowl out for him, I might as well give him some clean water too. So now I have a complete food and drink station for any squirrel who decides to drop by my place. I hope that they feel right at home when they approach my balcony and see this little setup waiting for them.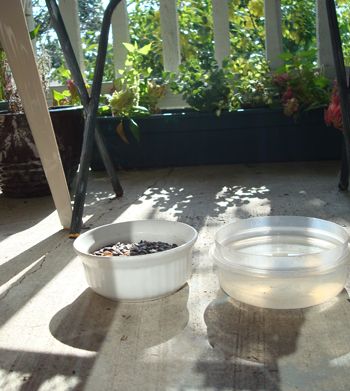 They still eat from the hanging feeder, but I think I could venture to say that the seeds are their favorite. It's not at all rare for me to walk into the room and see this on the other side of the glass: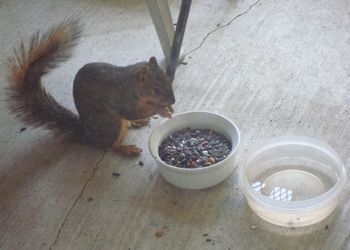 That's actually Mrs. Squirrel, one of the little girls who comes around. She's a little more jumpy than some of the males, so I try to be smooth in my actions while she's out there eating so I don't scare her away.

And as for the indoor pets, I managed to get a decent little photo of myself and the fluffball. He was chillin' in my lap a few days ago while I was at my computer desk. I had my camera sitting right next to my computer, so I decided to turn on the self-timer and see what kind of cute little snapshots I could come up with. Surprisingly, I ended up with a keeper!




Wow, that's not cheesy at all. I pose for family photos with my cat, but I swear I'm not one of THOSE people. Wait, yeah I am. Who am I kidding? I have been known to give my cat a billion nicknames, sing him songs, and tell stories about him to poor, unsuspecting friends and family members. What kind of silly things does your love for animals drive you to do?