As I was walking through the courtyard in front of my apartment building a few days ago, the morning sun had not yet peaked over the buildings and the dewdrops remained on the grass. I was looking down at the ground as I walked so that I might avoid any freshly baked dog turds, but what I ended up seeing was something much more pleasant than poo (I guess it's not very difficult to be more pleasant than poo though, now that I think about it most things are). Instead, I saw three tiny umbrellas in the grass.




I knew they were mushrooms, but I hadn't seen anything like them before. They had crinkly caps which were only slightly rounded, making them look more like umbrellas than mushrooms.




And they were TINY. The stems didn't even seem like they should be able to hold them up. They were only slightly larger around than a strand of hair.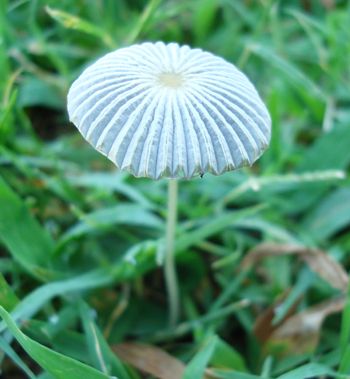 So me being the curious girl that I am, I immediately headed upstairs (after I completed the photoshoot of course) to look these babies up. I typed "umbrella mushrooms" into a google search to see what came up. And I was surprised to find out that's exactly what they're called! It turns out that they do eventually curl under to make a more rounded mushroom cap, but these were just babies so they hadn't fully developed yet. This is what they look like when they're a little more mature: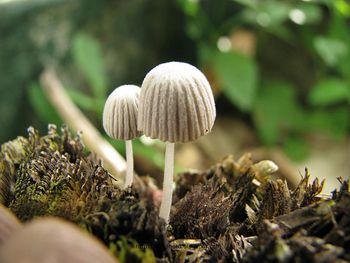 Image source.

I thought they were just magical, so I wanted to show them to you. Don't you wish you could just scurry underneath one of them to protect yourself from the rain? Have any of you seen these before?