Actually, to clarify that statement just a bit, my love got a new car. It's in his name, but we share the bills so it's pretty much all the same. We decided it was time to purchase a new vehicle for two reasons. First, the car he's been driving for the past few years is on its last leg. It's very unreliable, and we are constantly worrying that he'll end up stranded. The second reason is that it was our last chance to get in on the "Cash for Clunkers" program, which ended today.

For those of you who live outside of the U.S., President Obama started the Cash for Clunkers program to assist people who wish to drive more fuel-efficient cars. If your vehicle qualifies, you will receive $4,500 toward the purchase of a more environmentally-friendly car. It's a wonderful opportunity for people who need something that gets better gas mileage, but can't afford to just go out and buy a new car. We really benefited from this, because the car we were in before was only worth about $1,000. This program allowed us to buy a car that would have otherwise been way out of our price range. AND it's better for the planet. Score!

Before I show you the new car, I want to let you see what he was driving before.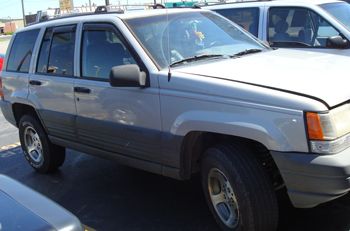 It's a Jeep Grand Cherokee with a V8 engine- a total gas guzzler. And now, brace yourselves, because this is a major improvement. We are now cruising around in this gorgeous piece of machinery!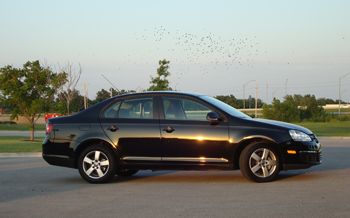 It's a brand new Volkswagon Jetta! Much better, right? Here's a photo of the interior.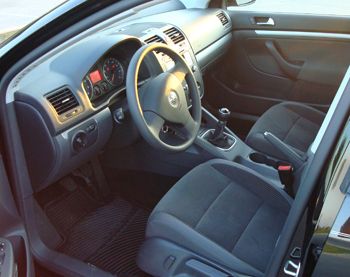 This was the first time that either of us had purchased a brand new car, so I made sure we took lots of pictures to capture our excitement. Here we are standing next to the car about 2 minutes after the paperwork was completed.




Once we drove off in it, I was feeling quite fabulous in our shiny new car. So of course I had to put on my rock star glasses. I was trying to look posh in this photo, but instead I just look mad. I guess that's what happens when a goofy chick like myself tries to be "fierce". Oh man I can't believe I just said that. Things like that just don't even sound cool when I say them. Does that happen to anyone else?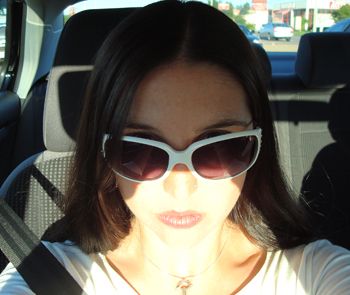 While we were waiting at a stop light, I asked the proud new owner of this vehicle to lean in for a photo of the two of us together during our first drive in the new car.




Don't let his casual, nonchalant smile fool you. He was absolutely bursting with happiness. It was adorable. This is a very safe vehicle, so my mind is at ease over that fact. He is the most precious thing in the world to me after all.

Maybe our next big purchase will be a house with a white picket fence. Then we can pop out a baby or two and we'll be well on our way to achieving the American dream!
♥ ♥