When I was a little girl, I thought of home as being the town I was raised in, and that it would always be like that. In a way, I was right. But since I hadn't quite grasped the ability to think abstractly, I couldn't yet understand that the concept of "home" is completely what you make of it. I would like to show you my home, and how my interpretation of the word has changed over the years.

I spent my childhood in a small town called Morris, Oklahoma. It is a community of just over 1,000 people. When I look back at my formative years, my time in this town is almost glazed over with a dreamy film of perfection. It was safe and charming, and I was a happy-go-lucky little girl without a care in the world. There will always be a special place in my heart for this little town, but it no longer feels like home.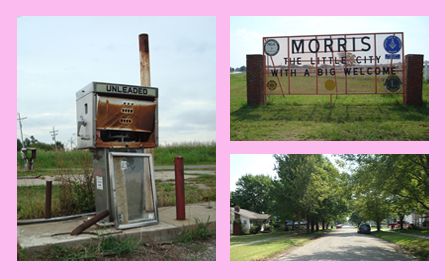 I occasionally find myself picking it apart now that I'm older, noticing how run-down it looks in certain areas and feeling very bored as soon as I enter this sleepy little town. Like I said, I will always have strong sentimental ties to this place, but now that I'm an adult, I feel like it's just not for me.

I haven't lived in Morris for quite a while now. I moved to Tulsa, a much larger city about 40 miles North of Morris, when I was 15 years old. My mom and dad had been divorced for a few years, and my mother got a new job in "the big city". So my brother and I moved to Tulsa with her while Dad stayed in his hometown. For the last 10 years, this is where I've been living.




Big difference, right? As you can imagine, it took me a while to adjust. But I love it now. I enjoy living in a city with plenty of conveniences, entertainment, and culture. But I have to admit, there are times when it doesn't really feel like home either. I've come to appreciate my roots, but I also want to expand them if you catch my drift. When people like my grandparents and my father live in a single area for their entire lives, I am truly happy for them because it tells me that they have found where they belong. But as for myself, I don't think I've found it yet.

I have often tried to convince myself to just be happy with where I am, because it's where my family is. I am a very family-oriented person, which is almost enough to make me want to stay here forever. Almost. I have come to realize, though, that I shouldn't base my own life on where my family chose to settle. I could easily see myself returning to Oklahoma someday, after discovering that the grass is actually not any greener on the other side of the fence. But I'll have to come to that conclusion for myself. In the meantime, I will enjoy the process of discovering that my real home has nothing to do with state borders or the building materials around me. It's all about who I spend it with. And if that's the case, then I've got a sweet, loving home no matter where I go. The phrase "Home is where the heart is" comes to mind.

Another thing that comes to mind is the song "Home" by Sheryl Crow. It is my absolute favorite song by her, which is saying a lot because I'm a huge fan. It reminds me so much of my hometown that it's almost scary. Sometimes, I listen to it with the windows down as I enter the town of Morris. I smell the country air and feel the sunshine streaming into my car. I love that the beginning of the video shows interviews with people discussing their idea of what "home" is. Seriously, this song is gorgeous.



Now I want to know about your home. Where did you grow up? Where do you live now? Do you feel like you are where you belong, or are you restless like me?