I've mentioned my tendency to be completely obsessive in some of my other posts, and as you can imagine, those obsessions spill over into my work. I think it's safe to say that I'm obsessed with coffee. Upon taking a whiff of a freshly-opened bag of gourmet coffee, I can't stop myself from saying "Mmmmmm" and immediately brewing a pot. I even find myself relating to other people based solely on the fact that they too enjoy coffee, as if I warm up to them more easily just by having a hot drink in my hand.

So naturally, I decided that I wanted to pay tribute to my favorite caffeinated beverage in the jewelry I make. It started with beads. My goal was to make beads that looked exactly like coffee beans, so I took out my dark brown polymer clay and worked with it to the best of my ability to make them look realistic. Once they were completed, I paired them with some vintage beads and made them into a bracelet. I call it the coffee and cream bracelet.




But then I thought of something new that I wanted to do with these beads. I realized how cute it would be to have little coffee beans dangling from your ears, so I made more beads and turned them into earrings.




A nifty idea came to me right as I was jotting down the coffee bean earrings into my little craft journal (where I keep all my top-secret thoughts and plans to take over the world). I thought it would be so cute to incorporate these into my craft show setup by displaying them on coffee mugs. Was I planning on using my most boring, bland cups? Heck no! I intended to hang them from the rims of the most funky vintage cups in my collection. After I finished bringing the earrings to life, I put them on the cups just to see how I liked it.




It definitely passes my test, but I want to know what you think. Are the patterns on the cups too busy? I just love these particular coffee cups so much that I may be biased. If you were walking past my booth and you saw a bunch of bright, funky coffee mugs with earrings hanging on them, would it make you want to come and take a closer look?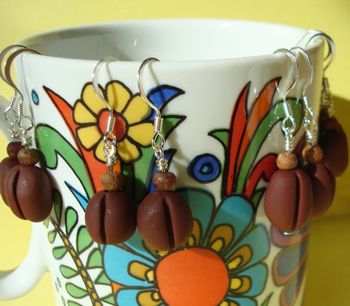 If you live near Tulsa, you can come see them for yourself, because I'll be set up at the South Tulsa Music Festival this Saturday!




You can find me and some of my crafty partners in crime at the Tulsa Craft Mafia booth. Two of my very talented friends, Heather from Audrey Eclectic and Holly from Sweetheartville, will be sharing a space there too, so come by and say hello if you live nearby!

I'm hoping the weather will be perfect, with beautiful blue skies and a slight breeze, just like what we've been having lately.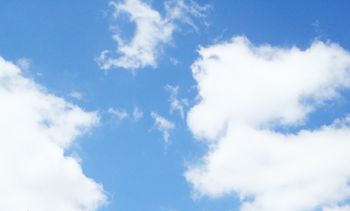 I'm really excited! This is my first craft show since the Blue Dome Arts Festival in early spring. It's going to be a busy but fun week. What are you looking forward to?