Sounds like a strange combination, but that's because I'm actually referring to two separate projects that have been going down in this crafty little household. I'll start with the yarn, because it's part of a very exciting bit of news I have- I learned to knit! I've been wanting to take this on for quite some time, and I finally attended a meeting for a local knitting group headed by my friend Andrea, who so kindly taught me everything I needed to know in order to start my first project. It's a scarf! Or at least it will be when I'm finished. I'm hoping to complete it before the cold winter months ahead.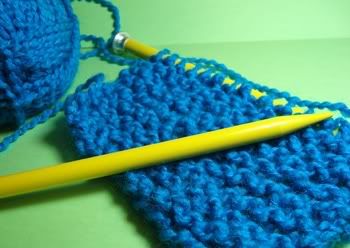 The stitches are really loose, because A) I got the wrong size needles for this yarn and B) I'm very new at this. But it's fun, and it makes me feel good to try my hand with a new medium. I won't lie, it really stressed me out when I first started to learn. But now that I've got the hang of it, I have found that knitting can be rather relaxing.

And now heading back to my comfort zone, I came up with a new design to try out on my polymer clay pendants. It's a variation on my rainbow bubble pendants, but my inspiration for these came from the colors of the chakras.

I started doing yoga about 3 months ago, and I really can't emphasize how much better I feel after only a few months of practicing this ancient art for a mere hour per week. I have noticed major improvement in my balance, flexibility, and muscle control. I'm definitely not claiming that yoga can cure everything, but I really do think it makes a difference to incorporate deep stretching and body alignment into your routine. The sudden change in the way I felt made me wonder if all the talk about chakras may actually hold some truth.




I've been reading a little more deeply into the whole idea, and I think it's safe to say that I'm thoroughly interested, because the chakra colors have made an appearance in my work.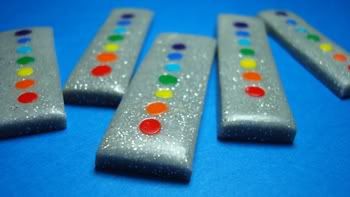 To find out more about the chakras and what they stand for, check out this site.




I made five of these pendants, so I came to the conclusion that it was okay to keep one for myself as a nice little reminder to keep my life in balance.




As you can imagine, that happens a lot around here. That's pretty much the whole reason I started making jewelry- I love to wear it!

In school-related news, I'll be leaving in about 30 minutes to go to my first reading session with the young child I'll be tutoring this semester. I'm SO excited! But right now I've got a question for you, my lovely blog friends. What's been inspiring you lately?