You know the kind of days where good things keep happening, from the moment you wake up until your head hits the pillow at night? I just love days like that. And for me, yesterday was one of those days. I'll start at the beginning. As I was sipping my morning coffee, I logged onto my etsy account to discover that I had a few conversations waiting to be read. One of them was a woman from Australia who wanted to purchase a few of my
mushroom garden stakes
for her daughter's fairy garden. That brought a huge smile to my face, because it's so fascinating to know that my work will be traveling to such a magical place.
Then there was another conversation from the oh-so-sweet Lolo from
Experimentalk
informing me that she had included my
bird's nest magnets
in her latest treasury. And didn't she do a fantastic job? You can click the photo to be taken to the actual treasury.
What a wonderful start to the day! But it didn't stop there. I left the house to head down to work for my dad. I was delighted at the beautiful day after what seems like ages of nothing but rain.
The sun was shining.
The bees were buzzing.
And the wildflowers were blooming.
Later that evening, I returned from yoga class in a very peaceful mood. I looked out the window to see the beginnings of a phenomenal sunset. So I headed out to my balcony with camera in hand to watch as the clouds morphed into glowing orange wisps. I couldn't wait to share this scenery with you all. Oklahoma sunsets aren't always this lovely, but sometimes they take my breath away.
Here's what it looked like from start to finish.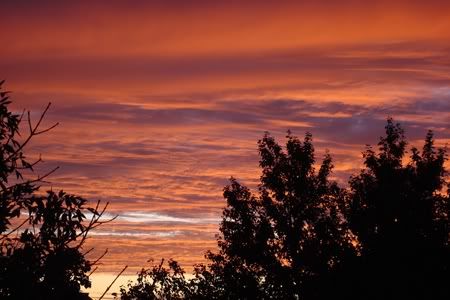 I think I was still smiling even as I drifted off to sleep. I wish every day could be so perfect. I think this is exactly the kind of day Lou Reed was referring to in this song.