This weekend, I sent off a package full of cupcakey goodness to The Felt Bird (aka the coolest shop ever). After visiting this store on the night of it's grand opening in September, I can tell you that it's a fun reflection of its owners, Estela and Riley. There are so many neat items that will either make you laugh, make you smile, make you say "Hmmmm..", or a combination of all three. So I am totally honored to have my cupcakes carried there. AND this is my second batch to send. Thank you to all The Felt Bird's customers for showing them so much love! ♥ ♥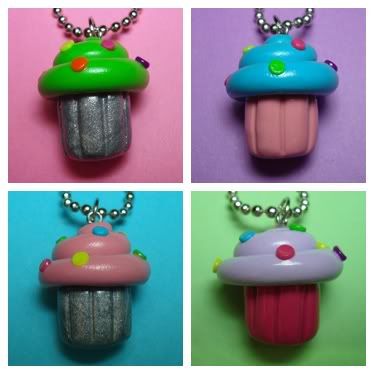 I sold all of the cupcake pendants I had at Indie Emporium. Plus I'm crazy busy with school right now (which is why I'm blogging?..) and I probably won't be listing any in my etsy shop anytime too soon. Which means that at this point in time, my sprinkled cupcake necklaces are available exclusively at The Felt Bird!

Now, onto the Halloween stuff! I told you a few posts ago that I was getting into the fall spirit, so I thought I would show you what kind of decorations I've got up at the moment. It's nothing much, because my space is very limited and I don't want to overdo it.

My kitchen counter now looks a little more spooky.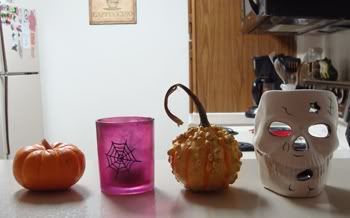 A pie pumpkin that we purchased in hopes of actually using for a pie is making our table a bit more festive until we get around to taking on the task of making our fist real pumpkin pie.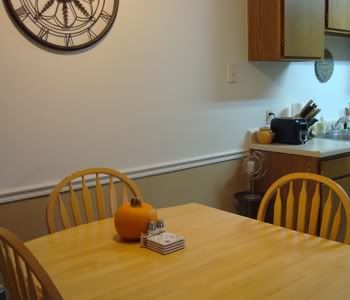 And my favorite- the battery operated, light-up paper lantern. It's purple with bats! The ferocious creature in the lower part of the picture is a year-round decoration in this home.




I think I'm going to be a unicorn for Halloween with the help of this tie-on instant unicorn costume I made. Here's a picture that my friend Justin took of me wearing it at Indie Emporium. I didn't have the courage to wear it all weekend.




I don't dress up very often now that I'm an adult (or at least I try to be) unless it's for a costume party or something of the sort. Instead, I'll just wear Halloween colors or maybe dress a little more "goth" than I typically do. But this is a subtle costume, and I think I'll wear it to my little third grade classroom on the Friday right before Halloween. I've noticed that 9-year-old kids tend to appreciate my sense of humor. Do you dress up for Halloween? If so, what will you be this year?