MY LOVE AND I ARE GETTING MARRIED!! On Monday, December 28th, we will finally tie the knot after 7 wonderful years together.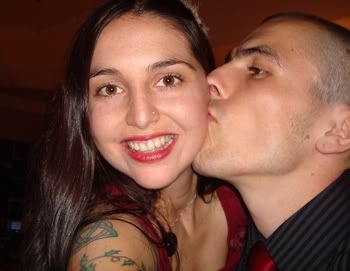 You may have witnessed the confusion over whether a traditional wedding was what we really wanted in this post, but we've got it all figured out now. We came to the conclusion that eloping was what we wanted to do, but then we had to decide where. We've been researching/pricing our options, and doing a little bit of soul-searching to determine what would really make us happy. After taking all these things into consideration, we ended up with Eureka Springs, a quaint Victorian town nestled into the Ozark Mountains. Since we'll be having a winter wedding, we wanted a location that was beautiful year-round. I think it's safe to say that Eureka Springs is just that.




And the coolest part is that the ceremony will take place in a treehouse chapel. This one, to be exact: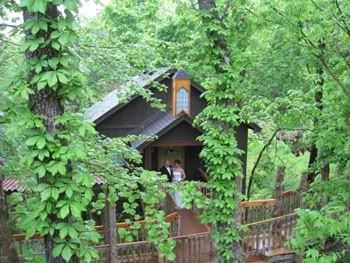 As soon as we're done with the vows and the photos, we'll be whisked off in a horse-drawn carriage to the downtown area for our first dinner together as husband and wife. Then, we'll come back to our cabin (which is also a treehouse), where the property managers have arranged to have rose petals, candles, and chilled champagne waiting for us. How romantic, right?! The best part is that this little getaway will require very little effort on our part, which is exactly what we need. My love has gone a long time without a vacation from work, and I will have just finished my school semester, so it will be very nice to just kick up our heels and enjoy each other.

This is the treehouse cabin we'll be staying in: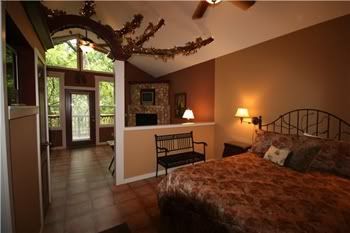 Since Eureka Springs is only four hours away from where we live, a very small portion of our time will be spent traveling. We get to spend a whole week in our little treehouse, kissing by the fire and sipping hot chocolate. It's just so perfect, you guys! We're extremely excited.

And if you think that's the only good news I've got, you're in for a surprise. We also bought a house! We found the perfect place for us, but we weren't sure if it would work out or not because the price was a little higher than we were able to pay. We fell in love when we looked at it, but tried not to get our hopes up before knowing for sure if we could negotiate the price. Fate must have been smiling on us though, because the sellers accepted our offer! The house is adorable, and it sits on a large lot with plenty of trees. There are quite a few windows, so our new home will be full of sunshine and happiness. We won't be moving until January, but that will be perfect because we'll be married by then and we can claim our first home as husband and wife.

I can't wait to share this experience with you all. You're always so sweet and encouraging, which is something I very much appreciate. You'd better believe I'll be taking tons of pictures of the whole process, both the wedding and the new house. So hold on tight, friends, because it's going to be a fun ride!