Let's face it, friends- it's not easy buying gifts for the holidays. When you have a ton of people on your shopping list like I do, it may seem impossible to make them all happy with a limited budget. Perhaps that's why we often resort to generic gift baskets and frantic trips to retail stores. Many people have made the decision to buy handmade for the holidays, and I think that's wonderful. Everyone knows how amazing handmade items are, but I'll give you a brief summary in case you have yet to catch on: they are beautiful, unique, clever, well-priced, and made with love.

There's another factor to consider here. Many, if not most, of my readers are also crafters/artists/creators of some sort. I did a few trades with etsy sellers last year, and I was very pleased with the way it turned out. I ended up with lovely gifts for the people on my list, and all it cost me was my time and materials to make the items I traded. I wanted to do more trading this year, so I thought I would extend the invitation to all of you as well! So without further introduction, I welcome you to the 2009 Hollyday Tradeoff!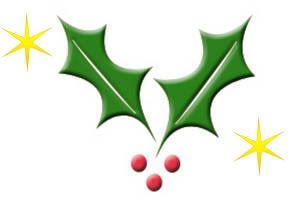 Here's how it works:

♥ First of all, it doesn't matter what you celebrate. It doesn't even matter IF you celebrate any kind of holiday. Even if you just feel like trading, all are welcome!

♥ You have to PROMISE not to get your feelings hurt if you contact someone about a trade and they decline. It's nothing personal. They may love your work, but simply don't have anyone on their list to give it to. If we are understanding of each others' needs, nobody will feel pressured into trading for items they can't use.

♥ Post a comment stating 1.) What you make 2.)What kind of things you are looking for 3.) Where your work may be viewed and 4.) How you may be contacted.

♥ Once you have posted, go through the comments and see if there is anybody you might be interested in trading with.

That's all there is to it! I'll start it out:

1.) I make jewelry (anything from cupcake necklaces to gemstone/sterling silver earrings), bookmarks/papercrafts, magnets, fake food/miniatures, and fossil jewelry/keychains (which the history buffs always love).
2.) I need gifts for a 3-year-old boy who loves pirates, a preteen girl, a dad who loves cars, quite a few music lovers, a boy who's really into sports, a cat fanatic, grandmothers, a teenage girl who loves to draw, a few manly men, etc. I've got a massive family, so just let me know what you've got!
3.) You can view my work on my etsy shop, my flickr page, or all over this blog. Just click on "crafts" or "craft shows" under the blog topics on my sidebar.----->
4.) The best way to contact me is by sending me a conversation on etsy right here.

There are also plenty of threads in the etsy forums with lists of sellers who are willing to do holiday trades. Here's a good one, for example. This will be fun! Now let's start trading, because time is running out!

Also, a few of you requested photos of the coffee house show I did over the weekend. Unfortunately, my camera died after the very first photo I took. So I only have one measly photo, but I'll still show it to you.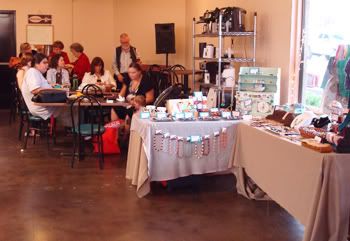 It was a really fun show! I got to knit with my friends, sip on a hot chai, and leave with a little bit of cash in my pocket. :-)

Happy trading, everybody!