Hello, friends! Since I'm just full of announcements lately, I've got another one for you today. I'm going to announce the winner of my Pumpkin Pie Giveaway! I used a random number generator to determine the two winners of this contest. Here are the results: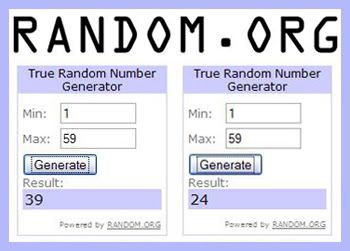 Winner #1 is mnewton1985, who said that "Sweet potato casserole (minus the marshmallows)" was her favorite holiday food. And winner #2 is Megan May, who made my mouth water with the mention of her mom's homemade cinnamon rolls. I'll be contacting the two of you to find out where you'd like your package sent. Congrats to you both!

If you didn't win, I've got something to cheer you up. Here's a playlist I put together with some of the most rockin' holiday music you'll find. It's not your typical Christmas music, because that's just not my style (although I do enjoy listening to the classics every once in a while). My purpose is to give you something other than the same songs you've heard over and over again in the shopping malls. Feel free to visit my page so you can let this play while you cook, craft, clean house, or decorate your tree. I'd love to provide your home with some festive background music this season!



Can you guess which song is my favorite? That's sort of a trick question, because I'd probably tell you you're right no matter which one you pick. There are a few that are especially dear to me though.

In wedding news, the countdown has begun! It's hard to believe, but there are only 11 days left until our big day. Now I have a question for you all- do you want to see my dress? My love is getting all superstitious on me, and he doesn't want to see me in it before the ceremony. But I do have a picture of me wearing it, and I thought I'd ask if you all would like to see a little preview now or would you rather wait to see the wedding pictures so you can be surprised? Let me know, and I'll include the photo in my next post if you're just dying to see it. Until then, I hope you'll enjoy my holiday music picks. What are your favorite seasonal songs? Your recommendations may even make an appearance on my playlist. Have a FANTASTIC day!