Your response to the question I asked in my last post was an overwhelming "YES, we want to see the dress!", so I'm here to deliver. But first, I want to share a fun little event with you. It's the Tulsa Craft Mafia Holiday Bash, and we'd love to hang out with some of our local friends. It will take place at the Fresh Roast Coffee House on Tuesday, December 22nd from 6 to 8 pm. We'll even be giving away freshly-baked desserts, so come see us if you can!




Now I'll steer away from the shameless self-promotion and onto the dress! Let me preface by saying that it's actually not a wedding dress at all, because most of the dresses that are marketed as bridal gowns are not really my style. Plus, I was not interested in spending any more than I had to on a dress that I may only wear once in my life (I know, I'm a tightwad). Since our wedding will be so intimate, I felt like a really fluffy, elaborate dress would be silly anyway. I did, however, want it to be something that made me feel beautiful, and it seems as if I've found exactly what I was looking for. What do you think?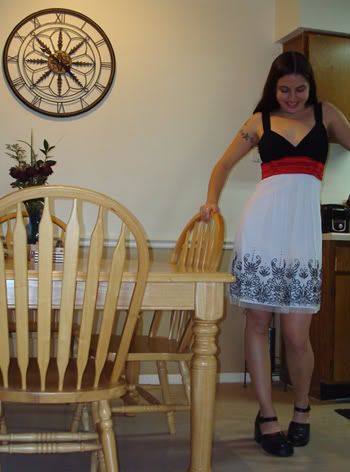 I totally fell in love with it when I tried it on. I think the colors are perfect for a quiet winter wedding. You may be confused if you read this post, in which I showed you the dress I thought I would get married in. But that's when we were planning a sunny getaway. I didn't think that it would be very appropriate to wear a sundress to a December wedding in the mountains, so I had to start all over again on my quest for the perfect dress. Since the original dress was only $6, I didn't feel like it was too much of a loss. I'll be wearing a little sweater and tights with the new dress to keep me warm on our carriage ride.

This is hard to believe, but we'll be saying "I do" in a WEEK! Since I'm so excited, it seems like my own holiday plans are all I can think about lately. But I'm curious about you- what do you have going on this season? Perhaps you intend to travel, or take part in an annual holiday tradition with your family. Or maybe, if you're like me, your plan is to get as much relaxation and yummy food as possible before life goes back to normal. I'd love to hear all about it!