Hi, everybody! I'm in a fantastic mood right now, because I'm getting very close to being done with this internship and GRADUATING COLLEGE!! I honestly never thought I'd get here, but I will have a degree in elementary education in a little over a month. I'm not 100% sure how I will use that degree, because the job market is not looking so hot right now. But I'm just hoping and praying that the right doors will open for me so that I can fulfill my purpose in this world, whatever that may be. After a long week of parent/teacher conferences, I've got a day off. So I thought I'd use this time to update my blog and see what my lovely readers are up to.

You might be really sick of hearing about my terrariums by now, but I've got more to show you so I hope you'll bear with me. First, I thought I might jazz them up a bit by using hemp twine to embellish the rims of the jars with vintage and antique keys. It seems to add a nice touch. But if you look closely at this photo, you might notice another little surprise.




I guess terrariums provide a perfect habitat for not only moss, but also families of tiny mushrooms! In my head, I set up the scenario that this was a Mama shroom and her two babies shyly peaking out from behind her.




I spotted a psychedelic snail in another one of my terrariums, but I may have played a role in putting her there whereas the mushrooms popped up all on their own.




I bought a tiny shadowbox at a local antique shop, which I filled with little treasures. There are mushrooms and cupcakes that I made from clay, as well as fossils, shells that I gathered during my trip to Jamaica in 2002, a skeleton key, and an antique soda cap. I didn't know if these things would complement each other very well, but I actually like the contrast of the bright colors paired with the more rustic objects.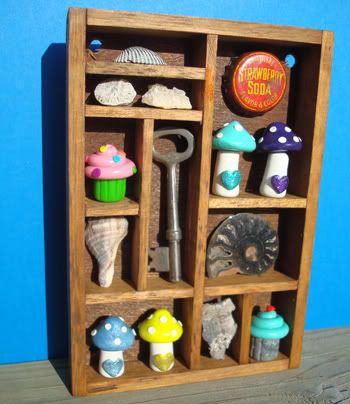 The lovely spring weather has inspired a few trips to local parks, where I am still excitedly jumping on any opportunity to observe signs of the coming season.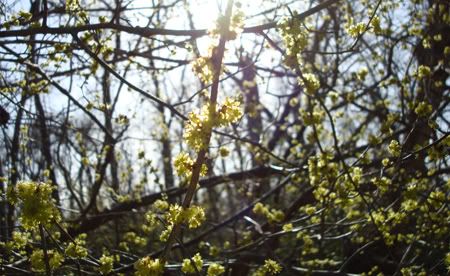 And at home, my daffodils have finally bloomed!




I love how happy and sunshiny daffodils are. One of my students picked one for me yesterday, and I wore it in my hair all day. The kids seem to get a kick out of their quirky, flower-child student teacher.

Since these photos were taken, I've found a lot more interesting things around the yard that I'd like to show you but they will have to wait til the next post. What's blooming in your yard right now?