I got a job!! Starting next spring, I'll be teaching a continuing education course at a local community college about how to start an etsy shop. I can't believe I found something that so perfectly combines two of the things I'm most passionate about (teaching + crafting). While I was in the process of pursuing this position, I took a temporary job setting up estate sales. But as it turns out, I really enjoy working estate sales, and I think I'll keep doing it even once I do start the new class in the spring. Both jobs are part-time, so I can easily do them together.

That's not all the good news I've got though! I'm also excited about debuting some of my terrariums at a craft show I'm doing tomorrow (well, technically it's today because I'm writing this in the wee hours trying to get sleepy). As you can see, I've got plenty of terrariums to spare.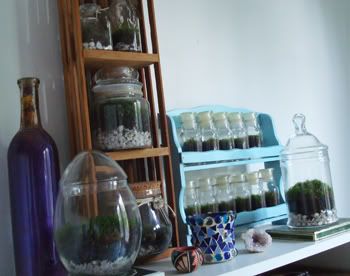 But not all of these will be coming with me to the show. The only ones I'm taking are these small terrariums I made out of a vintage spice rack. It worked out perfectly, because I was able to clean the jars and turn them into terrariums PLUS they came with a cute little shelf ready to display. All I had to do was paint the wooden shelf and now I've got a fun little set of wonderlands to sell at our booth.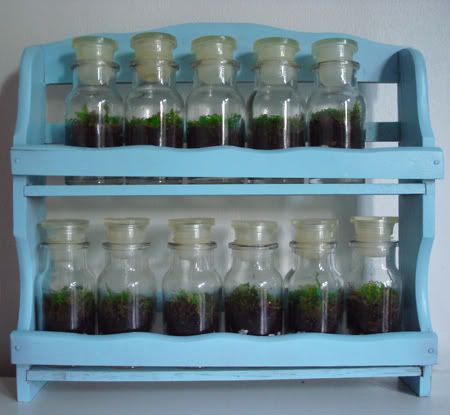 The show I'm doing is called The Alliday Show, and I'll be at the Tulsa Craft Mafia booth if you want to come say hello!

One final bit of good news is that I was lucky enough to win an amazing giveaway recently. I got two bars of AMAZING handmade soap, as well as a little wooden dish to keep them dry between uses from Posh Wash Soap. I can't even describe how wonderful the two scents I chose, lemongrass and sandalwood, smell in person, so I tried to do the next best thing and take a close-up photo of the bars. Can you smell it?




What good news do you have to share with the world?