I recently found out about a hidden gem right here in Tulsa (well, technically it's in Broken Arrow but it's pretty much all the same). I would have never known this place existed if it weren't for an article I read in a local newspaper, and I knew I had to check it out. Here is an excerpt from the article to give a bit of background on this charming place.

"Persimmon Hollow started out in the mid-1960s as Persimmon Hollow Antique Village," said Darnell, who purchased the three-acre property and has made significant progress redeveloping and revitalizing the area over the past four years.

"It was originally going to be a museum," he said.

Now, each Saturday from 9 a.m. to 5 p.m. and Sunday from noon to 5 p.m., visitors can experience nostalgia, artistry in its several buildings and purchase concessions from vendors along a Main Street set in an old western-type of environment.

"It's like walking back in time along the Main Street of an old western village," Darnell said.
-Broken Arrow Ledger, July 2010

Last weekend, I headed over to see for myself what this little village was all about. I was surprised to discover that the location was actually right in the middle of a very busy part of town (for the locals, you know how crazy the 71st and Garnett area can be). At first, I thought I had mistaken the address, because I didn't think there was any way that such a park-like setting could be hidden among strip malls and gigantic movie theaters. But as I turned down a quiet street, I discovered that the little jewel I was looking for was indeed waiting for me, tucked behind a housing addition. Here are some photos from my outing.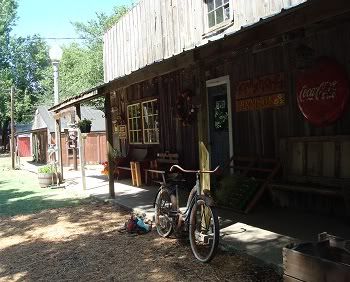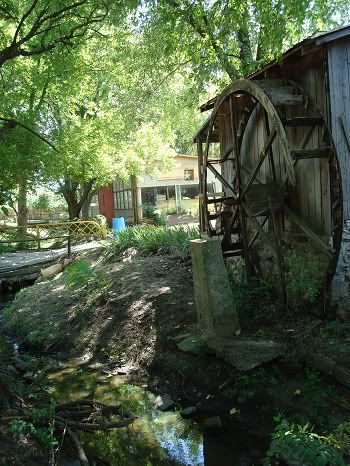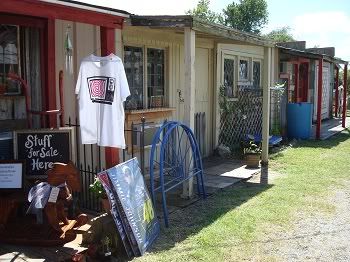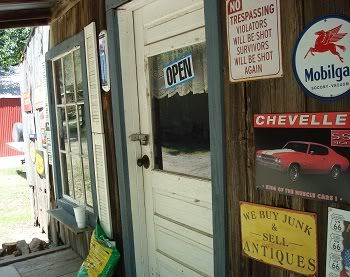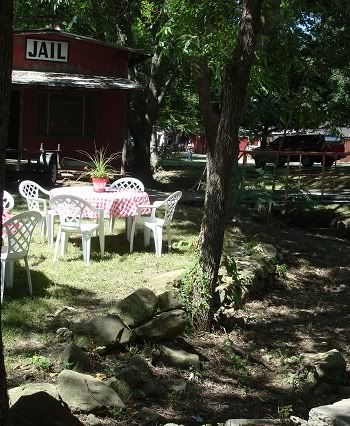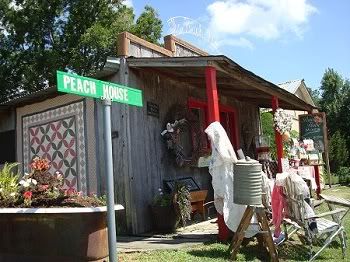 That last photo is of The Peach House, known for their amazing peach tea. If you look closely, you can see a jug of it for sampling on the front porch. I can personally attest to how wonderful their tea tastes when it hits your throat on a hot day.

You may be wondering if I bought anything while I was there. Of course I did! It's almost impossible for a lover of all things vintage to enter a place like this and NOT buy something. I came home with a set of two daisy glasses to remember this pleasant summer day by. I immediately washed them and filled them with ice water for me, and iced tea for the hubby (he's a Southern boy who likes his tea extra sweet).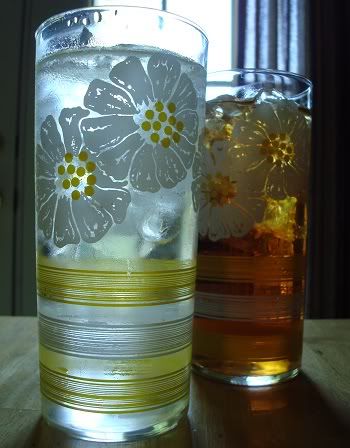 I'm so glad I photographed these together, because that Southern boy of mine proceeded to break one of them later that night. I couldn't be mad at him though, because he was actually in the process of refilling my glass for me when he broke it. He's just as sweet as the tea he drinks.

If you live in the Tulsa area and would like to visit Persimmon Hollow, the address is 6927 S 115th East Ave (the turn-in is just East of Garnett on 71st street, right next to the Salvation Army Thrift Store). You may even spot a certain little blogger named Holly while you're there, because I get the feeling this is a place I'll be returning to in the very near future.