Good morning, readers! I just wanted to drop a little piece of news that my local friends might be interested in. Tomorrow, I'm doing a craft show called The Heart of Broken Arrow. It will be happening in the Central Park community center from 9 to 4. This show is a staple of the area, and I think it will worth your time to stop by. There will be food, crafts, and free admission!

There are a few reasons I'm excited about this show. For starters, it's my first show to do in my new neighborhood! I can't wait to put myself out there and show the members of my community what I'm all about. Also, the booth fees benefit Broken Arrow Main Street Merchants. The Main Street area of Broken Arrow is a charming, wonderful place. I will happily support the businesses who line this lovely street, especially considering how much I enjoy window shopping as I go for walks. Isn't this a lovely backdrop for an evening stroll?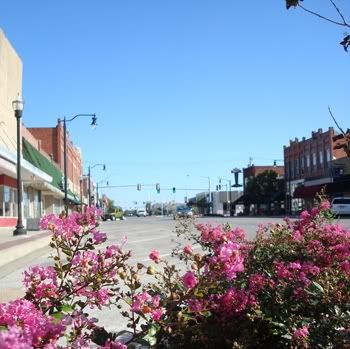 This will not be a group booth with the Tulsa Craft Mafia like I sometimes do. This time, I'm flying solo! I'll have a 12'x12' space of pure Hollyrocks goodness, so just look for the booth with my smiling face behind it. I can't wait to see you!