If you read my last post, you could probably sense my excitement over the fact that autumn is well underway in my part of the world. And now that it's October, that excitement has grown exponentially because I've got all kinds of fun things planned for this month. I'll be taking a trip to San Francisco with my mom, I'll be setting up a table at Indie Emporium a.k.a. my FAVORITE craft show of the year, and let's not forget Halloween! Since this will be our first Halloween in our new house, my husband and I are planning to hang out at home, watch a few scary movies, and pass out candy to the trick-or-treaters in our neighborhood. I can't wait!

To celebrate this time of year, I've got a quick giveaway for you! Somebody will end up will one of these fall leaf pendants in their mailbox.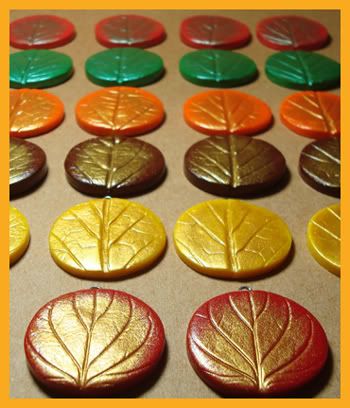 Rather than doing the giveaway right here on my blog, I'm having it on my facebook page because I'd like to do more giveaways and promotions there. I've also been thinking about doing a few giveaways on other blogs. Are any of you interested in hosting a giveaway on your blog?

As always, this contest is open to all countries, so all are welcome to click right here and claim your chance to win little piece of the season. Good luck!