Happy Saturday, my friends! I'm here to take you the rest of the way through my trip with my mom to San Francisco. This post will cover the last two days of the trip, and we'll start off at one of my favorite places we visited- Haight Ashbury.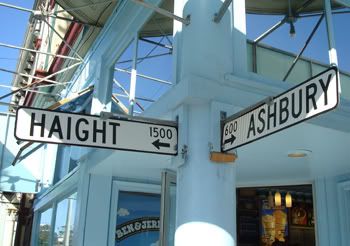 I have been fascinated with the counterculture of the 1960's since I first learned of the happenings of that era. I love the fact that the youth of that time were courageous enough to stand up for their beliefs in such great numbers. So I refer to this part of the trip as my "hippie pilgrimage" to a gathering place for so many dreamers, activists, and confused wanderers.




My mom enjoyed the area too, even though she's not as enchanted by the hippie movement as I am. She SWORE that it was something she wanted to see, and that she wasn't just humoring me.




For the ice-cream lovers, we were standing in front of the original Ben & Jerry's for those photos. This one intersection is only the tip of the hippie iceberg though. A large portion of Haight Street is home to all kinds of colorful shops and people.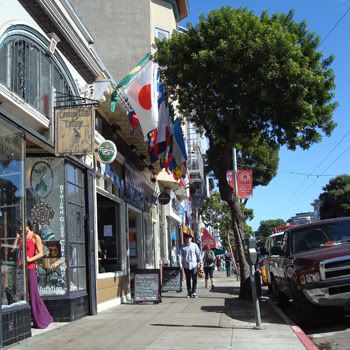 We ate lunch at a cozy little diner. I wish I could remember the name of the restaurant so I could recommend it, because everything was delicious.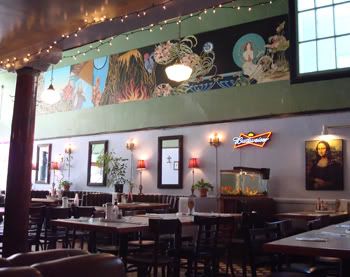 Let me tell you, those San Franciscans know how to make a rather tasty veggie burger. I guess it's all part of being in a place where so many people are health-conscious, which was a nice break from the "Who cares if it's healthy?" mentality I often encounter here in Oklahoma. I'm sure that's the same mentality that gives this state one of the highest obesity rates in the country (I speak the truth), but that's a whole different blog post.

Haight Street ends right as it bumps up against the famous Golden Gate Park. This massive park is full of trees, critters, tourists, and the aroma of one of California's most well-known crops... This little nature girl had a pleasant time walking along the winding paths on a perfect day for a walk in the park.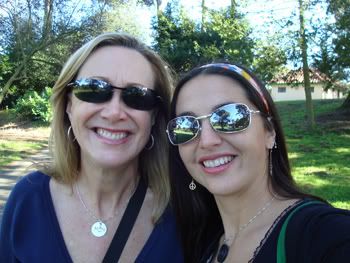 If you know me, you know that squirrels are a huge source of joy for me. So this chubby little guy certainly brought me a giggle.




The architecture in San Francisco is so unique and inviting. I often found myself daydreaming about living in a row house with flower pots on the doorstep in a cute part of town, riding a trolley to work every day.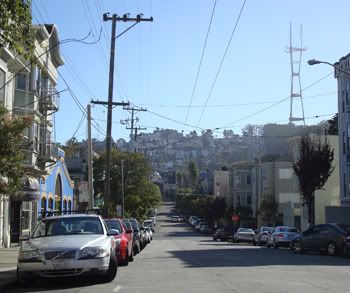 On our last day, we went for a walk in the city.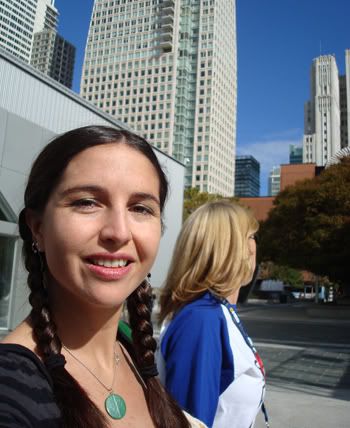 Even the downtown area has an abundance of parks and landscaping.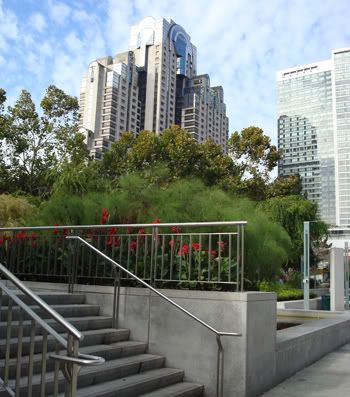 In the last few hours before we needed to head to the airport, we made a mad dash for Fisherman's Wharf. I'm so glad we were able to make it to this area before our trip ended. Since I've lived my whole life in a land-locked state, I've always been fascinated by the ocean. This seaside attraction was unlike anything I could see back home, and I'm pretty sure I walked around with in childlike stupor, excited to be somewhere so different from the sea of grass I'm accustomed to.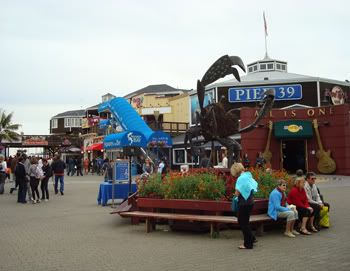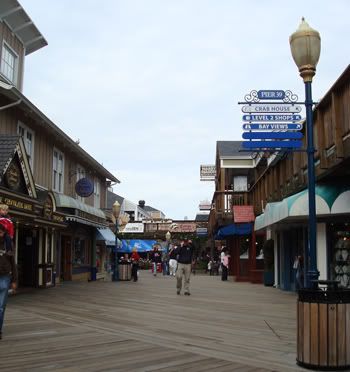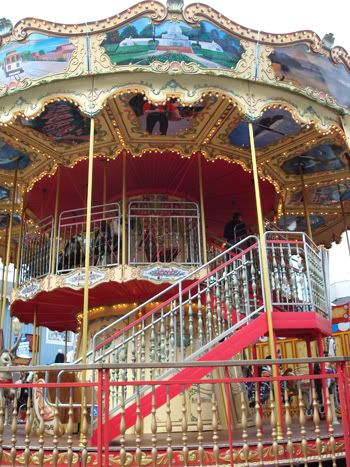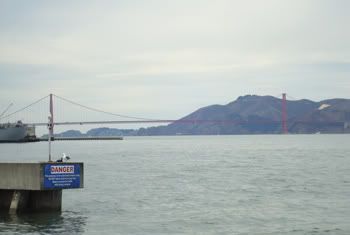 I managed to get a shot of the Golden Gate Bridge in the above photo. Although it's miles away from the wharf, it's so large and so bright that it was still clearly visible. And let's not forget the rowdy group of sea lions so many people look forward to seeing when they visit Fisherman's Wharf!




This guy decided to pose for a photo with mom and I.




Since the sea lions were so much fun to watch (and listen to!), I made a little video clip so that my lovely readers could share the experience. About 30 seconds into the video, I accidentally captured one of the sea lions losing his lunch, which is why you'll hear a few people in the crowd saying "Eeeeew" in response to his outburst.



Something I noticed when I uploaded the video was at the very beginning, you can hear a woman saying "Happy Anniversary" in a sweet voice. I did not hear it at the time, but I think it's precious. I wish I could find the lovebirds who were standing next to me that day so that I could share this video with them. They could have footage of the gentle words spoken, followed by a sea lion belching and barfing. How romantic!

Fisherman's Wharf was our very last stop of this trip. As we were waiting for a cab out on the sidewalk, I snapped one last photo of a beautiful mural that had been painted on a parking garage.




And as we hopped in the cab, I donned my new sunglasses with no concern for the fact that they were incredibly silly and touristy.




This little getaway was exactly what I needed. As much as I've come to love Oklahoma, there are times when it seems very mundane to me and I just need a little taste of something different and new. My mom and I had so much fun together, and I was aware throughout the whole trip that I was experiencing things that would forever be fondly remembered.

And now I've got a question for you. I used this as a creative writing prompt during my student teaching, and I found it to be a stimulating and exciting topic. If you could travel anywhere in the world, with no restrictions based on time or money, where would you go and why?