I'm making one last stop in the blog world before Christmas to share some cheer with my dear readers. I'll start by giving you a little tour of our holiday decor, but there's a bit of a story to explain why I'm so pumped up about this season. We lived in a one bedroom apartment before we moved into our first house together in January, so we never really had much space to decorate. This year, we decided to go all out in celebration of our first Christmas as husband and wife. I thought a vintage setup would best fit our quirky style, so I'll give you a little tour of the things I've gathered to give our home a bit of retro flair this season.

Here's a glimpse into our living room. I was trying to achieve a warm, cozy atmosphere by tucking the tree into the corner next to the bookshelf. Judging by my kitty's willingness to snuggle up and pose for photos, I think I succeeded!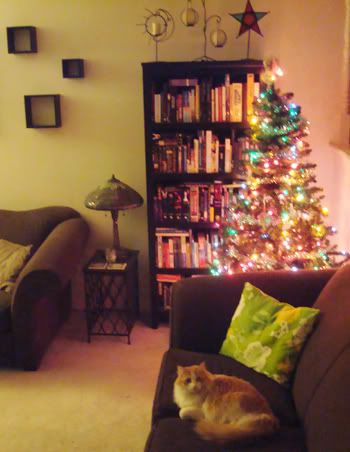 All of the vintage ornaments and decorations I'm about to show you were purchased at my job (if you're new to my blog, I work for an estate sale company). Starting in the late summer, I had my eye out for vintage awesomeness to spice up our home for the holidays.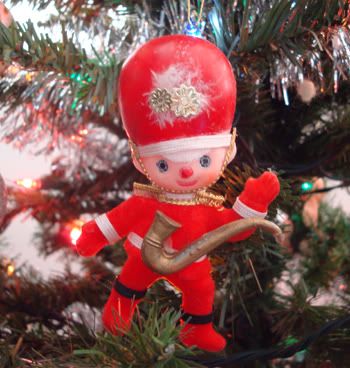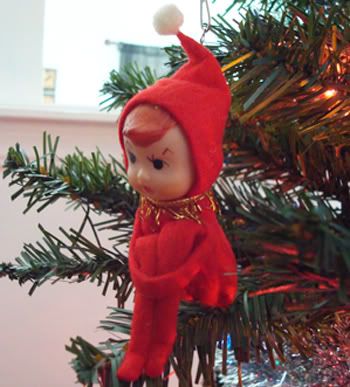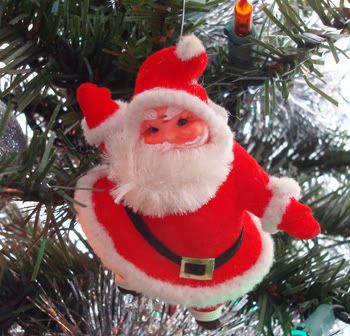 Isn't he the chubbiest Santa ever? I fell in love with him when I saw him, and knew that our tree would be more complete with him dangling from it.



Our angel tree topper is vintage AND handmade. Bonus!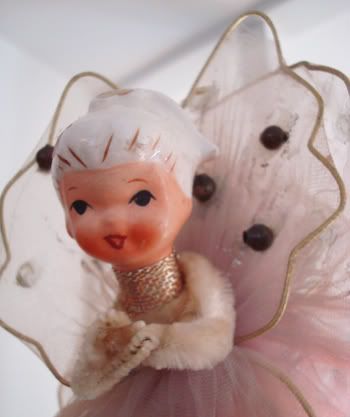 When you come into our front door, this entry table in front of the stairway is the first thing you'll see. So I paid special attention to this area in my holiday decorating. Come on in, my friends!



Back row: Vintage holiday gnome figurines, modern holly mosaic candle holder. Front row: Modern pewter angels and cookie-cutter candle holders (head over to my tutorial if you're interested in making some of these for YOUR home!).

I hate to choose favorites, because I can already tell that all of these items will be precious holiday keepsakes we'll use for years, but I really do have a crush on these little guys. I think they may be some of my favorite vintage finds I've acquired so far, and I might even have to display them year-round.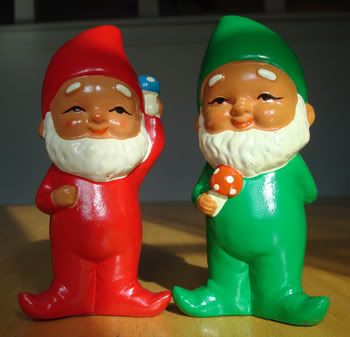 Mrs. Clause is ice skating in the ivy.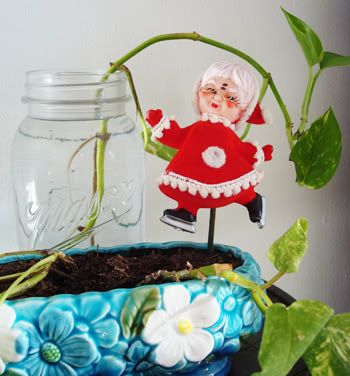 I even dressed our table for the holidays with embroidered linens, holly glasses (not vintage), and a ceramic Christmas tree candy dish with peppermints.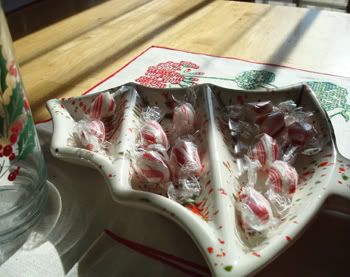 To finish it all off, we hung some fresh mistletoe. We have it growing in our trees, but it's too high to reach so I mostly daydreamed aloud about how much I wanted some for the house. When my husband climbed onto the roof to trim some tree limbs that were scratching our windows (a super creepy sound to wake up to in the middle of the night), he was nice enough to clip a few pieces of mistletoe for me too. As if I needed it to make me want to plant kisses all over that sweet face of his...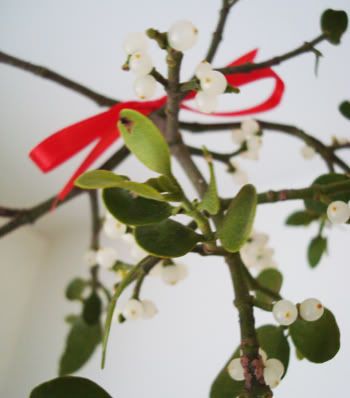 His acts of good husbandry didn't stop there, either. To continue our jolly mood on the outside of the house, he put up Christmas lights!




Now that I've given you the holiday tour of our home, it's time to share some cookies! I found a recipe online that claimed to produce some of the softest, tastiest oatmeal cookies there are. I made a few substitutions to create a reduced-fat cookie, and I was pleased to discover that they were still incredibly moist and flavorful. Plus, I think it's nice to be able to indulge in something delicious without throwing off your healthy ways. It's a rare occurrence during the holidays. ;-)


Reduced-Fat But Not Reduced-Flavor Oatmeal Cookies
Ingredients:
1 cup Smart Balance Light butter, softened
1 cup white sugar
1 cup packed brown sugar
6 tbs egg whites
1 teaspoon vanilla extract
2 cups all-purpose flour
1 teaspoon baking soda
1 teaspoon salt
1 1/2 teaspoons ground cinnamon
3 cups quick cooking oats
1 handful of golden raisins (optional)*
1 handful of chopped pecans (optional)*
*Sorry for the imprecise measurements on those last two ingredients. That's just how I roll when I'm in the kitchen.
Directions:
1. In a medium bowl, cream together white sugar, butter, and brown sugar. Beat in egg whites, then stir in vanilla.
2. Combine flour, cinnamon, baking soda,and salt. Stir into the creamed mixture. Mix in oats. If you are using nuts or raisins, mix into dough, combining well. Cover, and chill dough for at least one hour (I chilled mine overnight).
3. Preheat the oven to 375 degrees F (190 degrees C). Grease cookie sheets. Roll the dough into balls, and place 2 inches apart on cookie sheets.
4. Bake for 8 to 10 minutes in preheated oven. Allow cookies to cool on baking sheet for 5 minutes before transferring to a wire rack to cool completely.
Makes approx. 36-60 cookies, depending on how large or small you make them.
That pretty much wraps up my holiday post, but I do want to wish you all a wonderful holiday full of family, friends, and as many smiles as you can handle!!