Good morning, sunshines! I've got a very exciting event to tell you about. The Tulsa Swap-O-Rama-Rama will be taking place at the Philbrook Museum today from 12-4 pm, and it will be the perfect environment for all things crafty. By bringing a bag of unwanted clothing to the swap, you will receive free admission and access to sewing machines, supplies, screen printing, and all the free clothing you'll need to make magic!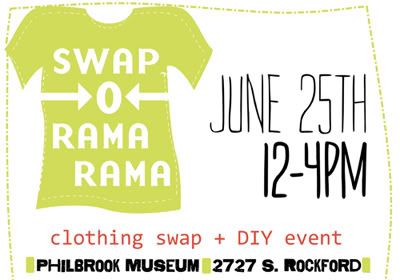 Click here to view my post about the last swap we did in Tulsa.

You can find me alongside fellow make:Tulsa members helping attendees with their creations. On top of all the potential craft projects, there will also be demonstrations throughout the day. I'll be getting all wrapped up for the "duct tape dress form" demo like the one I did at Indie Emporium.




For those of you who aren't close enough to attend this event, check out the Tulsa World article on Swap-O-Rama-Rama for instructions. And if you ARE local, find out more about this event here. Whether you'll be coming to this event or not, I hope you get the chance to create something beautiful this weekend. ♥