I'm curious, and I really have to know... Is there anybody on this planet who can honestly say they don't like strawberries? I don't believe I've ever met anyone who didn't love these wonderful little miracles of nature. If you are someone who disagrees, I want to know. I promise not to jump all over you or try to convince you that they are the most amazing fruit on this green earth. I'm simply wondering if there even IS such a thing as a person who dislikes strawberries.

When I was a little girl, both sets of grandparents had strawberries in their gardens. So to me, a big bowl of fresh strawberries with a tiny bit of sugar sprinkled on top (can you tell I'm hungry right now?) is a staple of summertime. And I figured that maybe I could give you all a taste of the upcoming summer months by letting you peak at some of my newest creations. Both of these have already been listed in my etsy shop.

This one is a hand sculpted strawberry pendant. It has everything a real strawberry should have, including seeds, leaves, and even a little vine on top.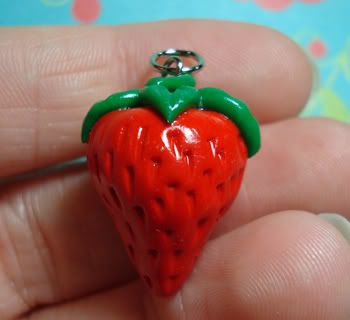 I've also listed something a little different from anything I've sold in my shop before. It's an entire strawberry cake, handmade out of polymer clay. The cake is sliced into 4 pieces, and each is a separate magnet. I used super-strong rare earth magnets, so these will definitely be effective at keeping your papers securely stuck to the fridge (or any other magnetic surface). Each piece features a strawberry slice, a tiny leaf, and a dollop of whipped cream! The cake has a brown crust on bottom and a layer of icing in the middle. I really went all out on this one, now if only I could make a REAL cake that looked this edible!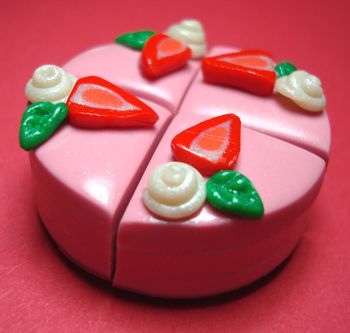 Let me hear from my fellow strawberry lovers!! I actually have been looking for some fun recipes involving fresh fruit, does anyone have any suggestions?