....and it was awesome, for about 30 minutes. And then I just really wanted to go home. I like being around people. In fact, I usually think of myself as a rather social person. I don't mind large crowds, and I'm not intimidated by the idea of making conversation with strangers. But on this particular Saturday evening, I'll be honest: people were really getting on my nerves. I think it was hot enough outside that even a total people-person would rather not be pressed in between so many bodies. I could not get enough of things like this when I was a little girl. Am I now turning into a crabby old lady?

I like to look on the bright side though. Yes, I was a little sad that these things lose so much of their magic once you exit puberty. But some good came of it. I took some photos, because I just couldn't help myself. So many colors, lights, and all-around cheesiness make for easy subjects.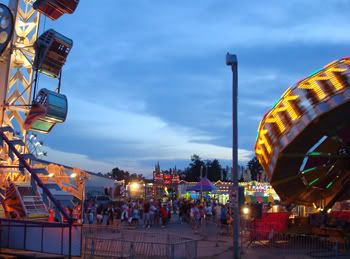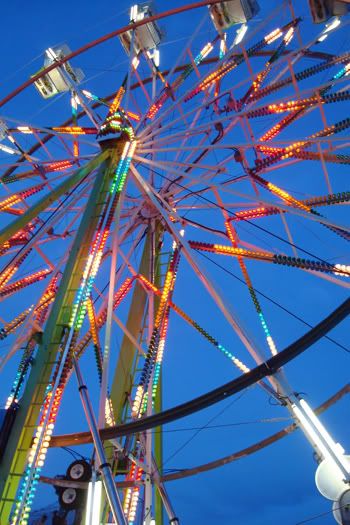 As much as I love the look of these rides, they are definitely not my cup of tea. That's right, I am the wussy kid who has to sit and watch while all her friends go on the big-kid rides. I can handle some of the more easy-going rides, but go ahead and deal me out if there is any chance it's going to leave me in a world of hurt. I know it makes me seem like a party-pooper, but I really do have your best interest at heart. You don't want to be a witness to the effect these rides can have on my tender little tummy. Trust me.

Now that I've labeled myself as a total pansy, I want to know about your carnival ride tolerance. Are you the "sit on the bench and watch as others twirl their bodies around in all directions" type of person, or would you place yourself more on the "how much are tickets? I've got to hurry up and jump in that humongous line for 30 seconds of dizzy euphoria" side of the spectrum?