When I went to my hometown to work for my dad yesterday, he had a little surprise for me. He lives outside of town, where there are lots of feral animals. There are always wild kittens living nearby, but they usually won't let people get anywhere near them. Dad said that a few nights ago, one of them was crying outside of his door. He went outside and saw this tiny, gray kitten. So he gave her something to eat and named her Little Ricky (I have no idea where he came up with that).

My dad is single, so I think he's enjoying the company of this little fuzzball. And she seems to be warming right up to the idea of being around humans. When he brought her into the shop, she slowly walked up to me. She was very skeptical of me until she got close enough for me to pet her. Then I think she realized that I give good lovin' to sweet little kitties like her, so she quickly began to trust me. She hung out by my desk all day while I attempted to work. But I must admit, I'm easily distracted by sweet baby animals, so I took plenty of breaks to scratch her little head.

So now that you know the story behind the kitty that wandered into my dad's care, I'd like to introduce you to Little Ricky!! She may not be MY new kitten, but she'll be in the family so I'll get to see her often.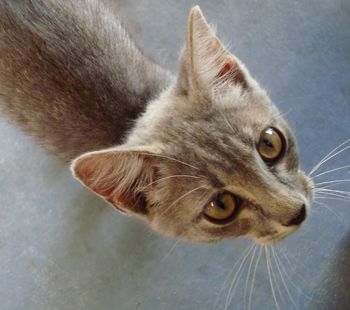 That's the only decent photo of her I ended up with because she's just so wiggly! But I did take a walk down to dad's pond to hang out with nature for a little bit. I know I've said it before, but I just love it there. This dandelion was massive.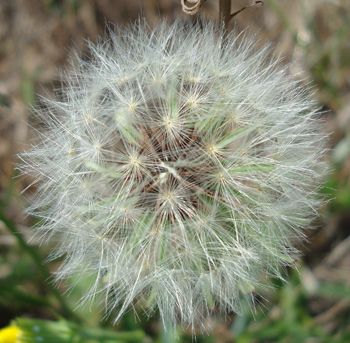 I also snapped a photo of a gorgeous dragonfly that landed on a blade of grass near where I was standing. I was surprised by this one when I uploaded it, because I didn't realize how close I managed to get. You should have seen me out there. I was creeping ever-so-slowly up to this unsuspecting insect, trying to get a detailed shot of his crispy, metallic wings and his brightly-patterned body without scaring him off. Isn't he cool?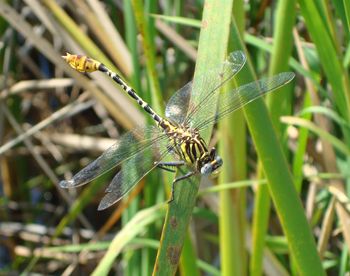 When I got home, I whipped out my camera yet again to photograph some new items for my shop. It's been too long since I've listed anything new, so I thought I'd try to get some fresh items up while I'm still on summer break. Once school starts next week, there's no telling how long it will be until I am able to work on my shop again. Here are the two new items I listed last night, and I should have a few more in the near future too.


Shiny vintage key necklace with blue crystal charm.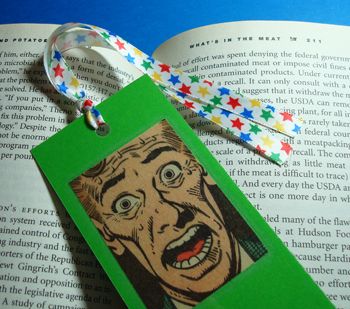 Vintage comic bookmark.
When I photograph my
bookmarks
, I like to use books that match the bookmark I'm trying to sell. For example, I used
Fast Food Nation
for the bookmark pictured above because I made a very similar face when I was reading that book.
So now I've got a question for my readers. If I only have time to read one more book before school starts back, which one do you think it should be? I can't wait to hear your recommendations!