Some of you already know about my history with squirrels. For those who don't, I can sum it up by saying that my husband and I used to live in a third floor apartment near a tree. Our balcony looked like this: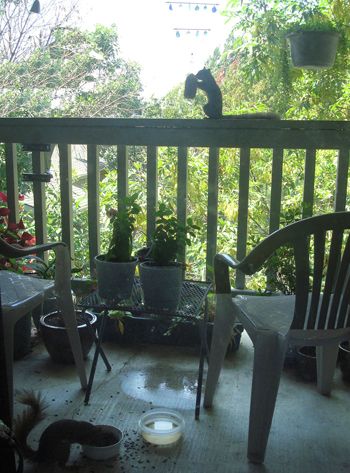 As you can see, the local squirrels loved our place because we fed and watered them. In January, we bought our first house together and moved about 10 miles away from where we previously lived. I saw squirrels near our new house from the time we first moved here, so I created a similar setup in an attempt to attract them to the deck in our backyard. The little dishes you see on the left are food and water. There are also multiple feeders hanging in the trees, as well as a bird bath.




This "if you build it, they will come" mentality has been successful, and I'm happy to say we've got a whole slew of critters hanging out at our house.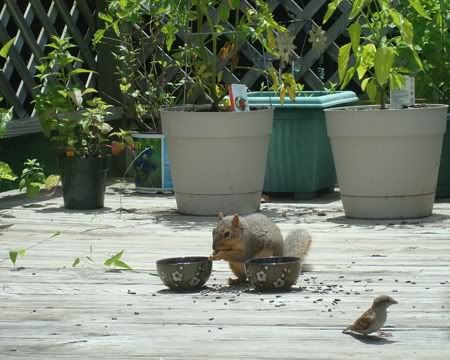 I think this one may be young, but not quite a baby. Maybe he's a teenager!




This chubby little guy gave me a laugh. He was standing like an old man while he ate.




Those cute ceramic dishes were only 99 cents each at Big Lots. I bought them for the pure purpose of filling them with seeds and water so that the critters who visit my yard will have a little treat. See how much fun you can have with $2.00? I recommend trying something similar at your home near a window so you can see what kind of lovely creatures turn up!