Good morning, cuties! For this week's Fitness Friday post, I'll be sharing a recipe with you. This recipe is special because it is a trifecta of awesomeness- it's easy, delicious, and FAT FREE! I am always looking for tasty food that isn't terrible for my diet, and I've been pleased to find an abundance of healthy treats over the years that taste so good I sometimes forget that I don't have to feel guilty about them. I love it when that happens!

Are you starting to get curious about this yummy cake I speak so highly of? I won't draw it out any longer, because you will probably want to start gathering ingredients and heating up the oven before you even finish reading this post. I introduce to you my new favorite dessert- Pineapple Angel Food Cake! I have to give the credit to my Grandma, who introduced me to this lovely dessert a few weeks ago. Apparently, it's a Weight Watchers recipe. Grandma also reads my blog. Hi, Grandma! Look at me, I'm cooking!




This may look like your bland, run-of-the-mill angel food cake. Don't be fooled! I am not even a fan of angel food cake by itself, but for this recipe, the magic is in the pineapple. It makes for a moist, interesting dessert that is certain to satisfy your sweet tooth without the overload of fat. Let's get started!




The only two ingredients required for this recipe are a box of angelfood cake mix and a 20 oz can of crushed pineapple. I told you it was easy! And when I use the word "easy" to describe a recipe, you can believe it. As much as I love to make tasty things to eat, I'm not a natural in the kitchen by any means. ;-)

The first step is to preheat the oven to 375° F (or 325° if you'll be using a dark or nonstick pan). Pour the cake mix and the pineapple into a mixing bowl together. Do not drain the pineapple- you'll want to use the entire contents of the can.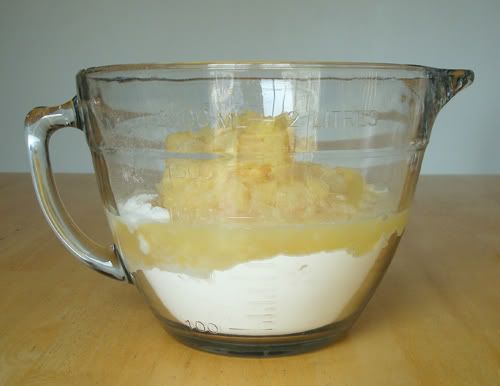 Now mix the ingredients until the batter starts to foam. I used a hand mixer on low speed for about 30 seconds. The mixture should be nice and frothy.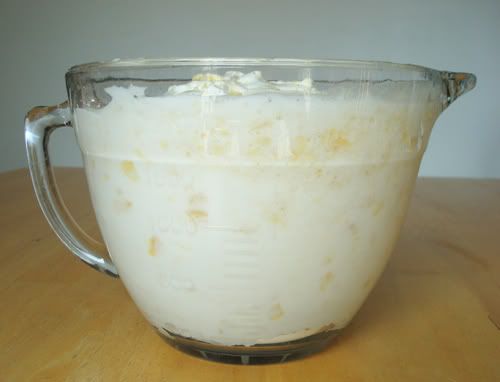 Pour the batter into an ungreased baking pan. I used an angel food cake pan, but you can use a loaf pan or a regular cake pan instead.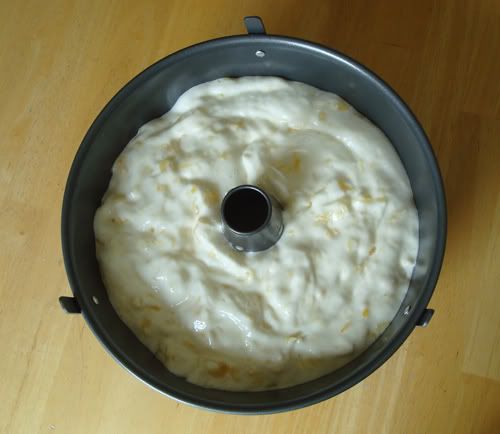 If the oven has finished heating, go ahead and place your cake on the middle rack and bake it for 35-45 minutes. You'll know it's done when it has achieved a lovely golden brown color. When the cake is done baking, remove it from the oven and immediately place it upside-down to cool. I used a wine bottle, but you can use whatever method you see fit. If you used a loaf pan, lay it on its side to cool.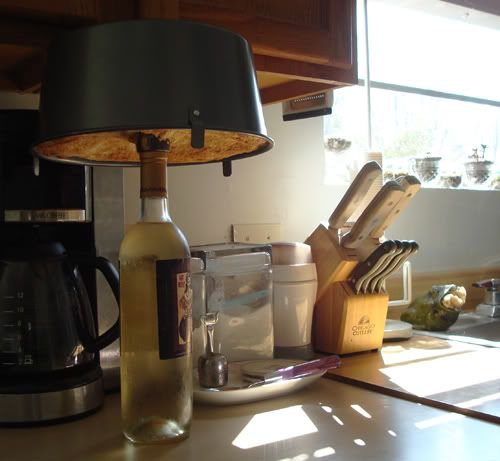 Once the cake is done cooling, use a butter knife to go around the outer and inner edges of the pan to release it.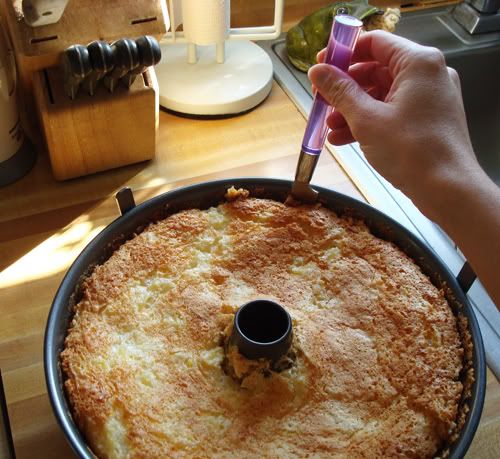 Flip the pan over quickly while holding the cake over a platter. Place it on the dish, slice it with a serrated knife, and enjoy the sweet, sweet taste of dessert that won't make your jeans any tighter.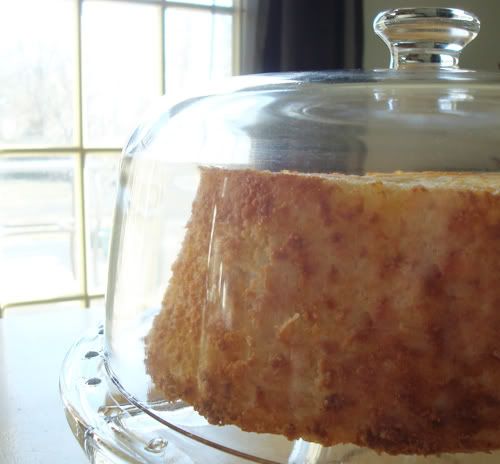 This recipe is very versatile, so you can experiment with different toppings such as icing, whipped cream, nuts, fresh fruit, or perhaps a scoop of vanilla frozen yogurt. I don't add anything to mine, because I think it's perfect just the way it is and I like the fact that it's not ridiculously sweet. Please feel free to let me know if you decide to try this recipe and what you may have done differently. Enjoy!