I just finished decorating my crafty little corner with a few new things, so I thought it might be a good time to show my lovely readers what I'm workin' with.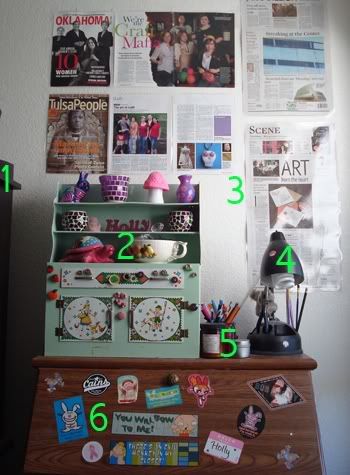 My space may be small, but I'll give you a tour of it all the same. :-)
(1) This is the corner of my fiance's computer desk. While I work at my desk, he sits next to me. That's my favorite thing about my craft space. ♥
(2) You may recognize this vintage shelf from my Indie Emporium post, but it's serving a different purpose now. I use it to display some of my favorite knick-knacks and to store supplies. Those fancy little doors actually open to reveal extra space inside!
(3) I recently laminated all of the newspapers and magazines I've been featured in and hung them on my wall, because it helps to have a little bit of encouragement when I'm feeling creatively challenged.
(4) This cheap gooseneck lamp comes in very handy not only for lighting, but also for storage. It has spaces to hold my pencils, paintbrushes, and pliers. And if you look closely, you'll see a little koala hanging on.
(5) Atmosphere is important when I'm getting into the crafty mood, which is why I keep a few scented candles on my desk. One of them is from Cottage Garden Therapies and the other was made by my friend Christine.
(6) I'm like a little kid when it comes to stickers. If I could, I'd stick them all OVER the place. But in an attempt to make our apartment loook at least a little bit sophisticated, I have limited myself to my craft desk. It's tacky, yes, but it makes me happy to have a little spot where I can stick things.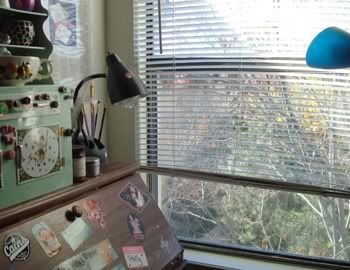 I really enjoy the fact that my little craft corner is right next to a window. I get lots of natural light, as well as a beautiful view of the treetops.

This little space, however, may not be my crafting spot for much longer. My love and I are currently living in a one bedroom apartment, which is why I am limited to such a small area. But we've been working with banks and realtors, and it appears that we'll be buying our first home soon!!! It will be so nice to have an actual house with a yard for me to plant my flowers in. I might even end up having my very own ROOM to use as a craft space! I'm the type of girl who doesn't want for much. I'm always grateful for what I have, and I try not to compare myself to people who may have more than me. But I've got to admit, it will be SO wonderful to have a little bit more breathing room. I feel very blessed that this is all working out for us.

For the rest of this beautiful Sunday afternoon, I plan on heading up to the gym to get my blood pumping just a bit and then get ready for a Tulsa Craft Mafia meeting later on. We'll be discussing the details of a show we're doing next weekend. It's going to be a fun little event where we'll cozy up in a local coffee shop and fill it with our goodies. If you're in or around Oklahoma, I'd love for you to drop by and hang out with us!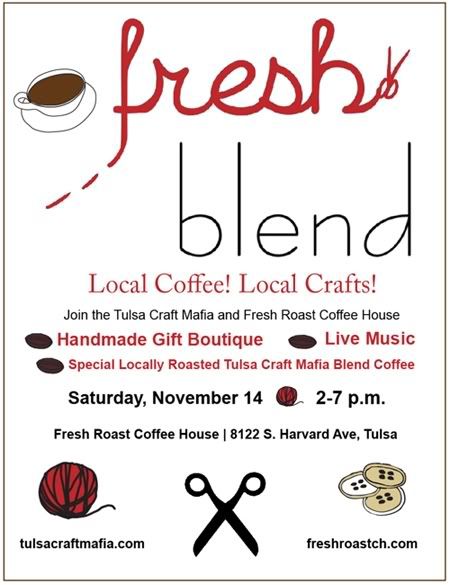 So now that I've shared my good news, I want to hear what kind of fabulous things are going on in your life. Tell me something good, bloggers!